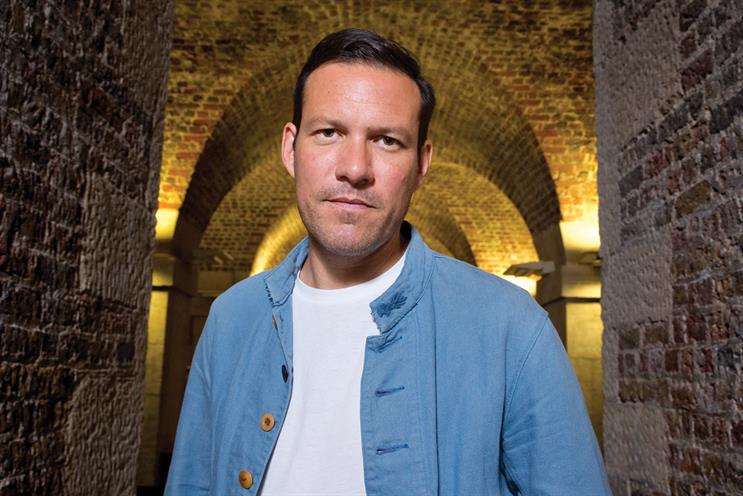 Down in the crypt of the St Martin-in-the-Fields church, the director Ringan Ledwidge is inciting a creative reformation.
An audience comprising Now's staff and friends have gathered to hear Ledwidge discuss his creative process.
Instead of a PowerPoint presentation or staid panel discussion, he lets a specially edited film, accompanied by a live musical performance, do the talking.
Then he saunters on to the stage, beer in hand, and urges creatives to fight – really fight – for great work. The attendees lap up his message in vocal agreement.
Ledwidge is in a similarly punchy mood when he and his friend, Now's creative director, Steve Paskin, sit down with Campaign for a chat.

Why do you think people should fight for great work?
RL: The way I see it is that the client is paying me for my opinion. I'm not just a conduit for what they want. I think you pay me because you like my showreel and you want some of that. So I'm always forthright in my opinion.
I've had occasions in the past where I've been told not to say this and not to say that because the agency is trying to steer it through. I think this is where we're getting it wrong. Fundamentally, I think a client wants someone to tell them the way it should be.

How do you have confidence in your own creative convictions?
SP: I don't think it's about having confidence; it's about having a desire to do something good. Even now, after 25 years in the business, I don't feel confident.
RL: I'm the same. I had two client presentations today, one in New York and one in London, and I was shitting myself. I'm so passionate about what I do that I get really nervous because it's subjective. You never know whether someone's going to like it. You just have to believe it is right. I'm always anxious.
SP: You're never 100 per cent sure of what you put forward.
RL: But that's the excitement. There's a small moment of enjoying it, and then you have to show it to everyone, and that's when you get really nervous. The funny thing is I know it must be a nightmare for the client as well. They come into a room in an edit and there's five or six people that instantly cast them as the bad cop and then they have to sit and watch it. That must be equally awful. Especially if you have to tell them you don't like something. They have my sympathy for that.

What gets you excited about an idea?
RL: Simplicity. Something that's very clear in what it's doing. It could be a different challenge, an emotional thing, a technical thing. I'm really attracted to strong, simple, clean ideas. Then you can make them complex.

How do you juggle commercial imperatives with creativity?
RL: When I approach a job, it's never really about the product – it's all about the story. Are people going to connect with it? Are they going to feel something? If people are engaged, then you succeed. A huge part of that is having real honesty – a truthful observation about the brand. That's what I look for with what I make. I ask: what's the story, what's the idea and how do you want to make the people feel?
SP: You can't sell anything unless it's engaging. If it's just vanilla, it won't sell a product. You have to attract attention. But the creative journey is difficult – you start off with an idea and it's almost like The Lord Of The Rings, where you have to get from the start to the end by getting through lots of obstacles.

As a former photographer, do you welcome the trend to be more visual online?
RL: It's still the story for me, always. You can make something look beautiful and amazing but, if there's no story, then people don't care.

In today's digital age, there's an increasing pressure to speed up the creative process. Do you think that's possible?
RL: I read something about how advertising is going to become "real time". I thought: no fucking way.

Do you see the internet as a threat to your craft?
RL: People still want good stories and good ideas. Everyone said the internet would be the death of TV but, actually, it's the rebirth. Now you can make short films and tell bigger stories. People aren't going to watch virals any more. Strong ideas and beautifully crafted things stand out because there's so much shit out there. I love the brutality of the internet. People will tell you if it's good or not. I like that. I fucking hate research, I'd rather something just goes out there and then see.

You shot the movie Glimmer recently. What's the difference between directing commercials and feature films?
RL: Weirdly, people in commercials are way more open to ideas than people in films. They are more open to new things. For example, I met Steve a few years ago – he saw something in me and encouraged me.

What do you think of the state of the industry now?
RL: The past couple of years I've seen less good stuff than I normally would do. I think we're starting to come back, but we need to be braver. You don't want to bend over to the client. You've got to push back. Then, when you turn up on set, you're shooting something you all want to shoot. Have the fight.