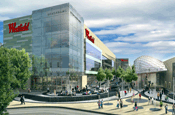 It has appointed Lee Cutter, the former head of business development at Metro, to head up the division as the head of sales.
CBS Outdoor has created the division to handle the launch of Westfield London, the £1.6 billion White City retail shopping centre, which opens this month. CBS was made Westfield's digital partner earlier this year.
Cutter will set out to raise awareness of the digital advertising opportunities within retail. The new retail team will sit within CBS Outdoor's digital division, Alive.
Cutter, who will report to the sales director of Alive, Nicky Cheshire, has worked in the media industry for nine years. He started his career at CIA in account management and planning. Later he moved to Starcom Motive and Barclays.
Cheshire said: "Westfield provides us with the perfect opportunity to redefine the retail market in the UK.

"Our digital proposition will offer brands a meaningful way of reaching the affluent London consumer in an environment where every pound spent can deliver a real return on investment.
"I'm delighted to have Lee on board as he brings both a fresh perspective and a deep understanding of the London audience."