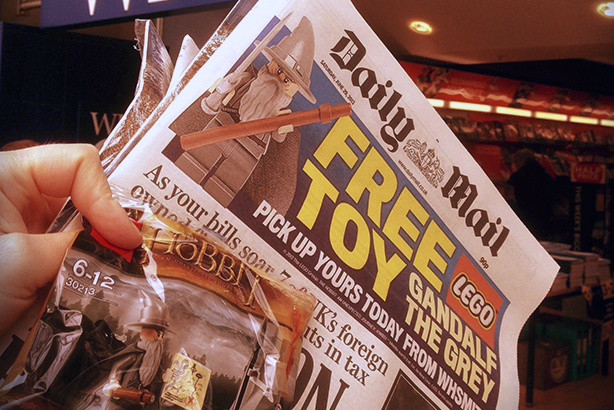 Lego UK spent £626 on digital with the Daily Mail so far in 2016 and £1,852 with the Daily Mail, in Scotland, in 2015, according to estimates by Nielsen given to Campaign.
Even those figures may overestimate Lego's media spend.
A source close to the Daily Mail said it has no record of the digital outlay and the promotional space that ran in Scotland was an in-house ad for a merchandise giveaway, not a paid-for ad.
That would mean the toy-maker spent nothing on ads with the Mail in 2015 and 2016.
Lego said on Saturday that it has halted promotional toy giveaways with the Daily Mail after pressure from Stop Funding Hate, a campaigning group set up in August, which has called on advertisers to stop spending with the Daily Mail, The Sun and the Daily Express because of their editorial coverage of immigration.
Lego said in a tweet: "We have finished the agreement with the Daily Mail and are not planning any future promotional activity with the newspaper."
A Lego spokesman declined to explain if "promotional activity" includes advertising.
However, a newspaper industry source said the fact Lego has spent so little on ads with the Daily Mail meant it was misleading to suggest the toy-maker was stopping advertising with the paper – as opposed to stopping promotions.
Lego and the Mail have run a number of toy giveaways in recent years with the shared aim of boosting brand awareness for the toy-maker and driving print circulation for the newspaper.
Typically, a publisher would jointly fund the cost of such a giveaway with a toy company and it would require a significant investment from both parties.
The most recent Lego giveaway ran in the Mail in October.
Industry observers said the Lego tie-up has been highly prized by newspapers because of its ability to drive circulation.
The Sun is said to have been keen to do a deal with Lego in the past when it lost out to the Mail.
Lego's decision to end its partnership with the Mail is likely to be a blow to the paper – not least because of the negative publicity.
Mail bosses are likely to be worried that other advertisers might feel pressure to follow Lego by dropping promotional activity, although no brand has done so yet.
Stop Funding Hate has used social media to call on John Lewis and others to stop advertising in the Mail.
John Lewis said: "We fully appreciate the strength of feeling on this issue but we never make an editorial judgement on a particular newspaper."
Lego, which uses Carat as its media-buying agency, had an annual ad budget of £7.4m last year, according to Nielsen, and has spent £6m so far this year.
The vast majority of its ad spend has been with broadcasters Viacom (£1.7m), Disney (£900.000), Sky (£800.000), GMTV (£500.000) and ITV (£300.000).
Lego has spent £113,000, or less than 2% of its ad budget, with newspapers so far this year.