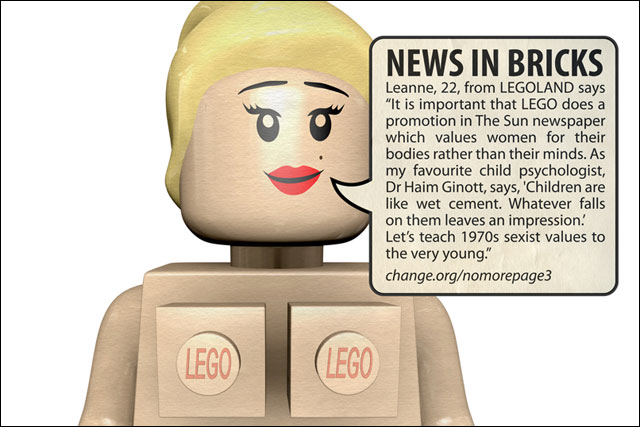 The campaigners have produced an image of a mock limited-edition Lego page 3 model in a bid to highlight its criticism of the children's toy brand for signing a commercial deal with a newspaper which carries images they believe objectify women.
In a nod to the topless women on page 3 of The Sun, the page 3 Lego woman is only wearing a pair of knickers. She has a belly button piercing and the word Lego written across each naked breast.
The No More Page 3 campaign started in September and its founder Lucy Holmes said many of its supporters contacted Lego through email, telephone and Facebook to ask it to cancel the partnership but the brand went ahead regardless.
Holmes said: "Leanne is a tribute to Lego's commitment to the Sun newspaper."

In a pastiche of The Sun's "news in briefs" quotes on page 3, Leanne the lego character is quoted as saying: "It's important that Lego does a promotion in the Sun Newspaper which values women for their bodies rather than their minds.

"As my favourite child psychologist Dr Haim Ginott says: 'Children are like wet cement; whatever falls on them leaves an impression'. Let's teach 1970s sexist values to the very young."
The No More Page 3 campaign claimed it is not asking for a ban on page 3 and is not against all glamour modelling, but is instead campaigning against the editorial decision to publish pictures of topless women in a family newspaper.
A Lego spokeswoman said: "Lego's relationship with News International is a confidential business agreement. Through our partnership with The Sun, our intention is to provide millions of free Lego play experiences to children."

Celebrities such as Jennifer Saunders, Chris Addison, Eliza Doolittle, Alastair Campbell, Caitlin Moran and Graham Linehan are among the more than 50,000 people to have signed the No More Page 3 petition.
Follow @DanFareyJones