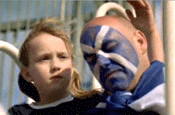 The ad celebrates the modern-day realities of being Scottish, including watching the national football team lose and hitting the beach with white skin.
Adrian Troy, head of marketing for parent company Barr, said: "The campaign is a change of pace for Irn-Bru.
"It features our trademark irreverence and humour but it's also moving and instils a real sense of pride and what that means for Scots from all walks of life."
The 60 second film, directed by Martin Wedderburn, was seen first by 200 winners of a competition that ran in The Daily Record.
They were given memory sticks holding the new ad and were encouraged to spread it online before the ad broke yesterday.
Does the ad live up to earlier Irn-Bru ads? Are you Scottish? Did this get your blood racing? Comment below: