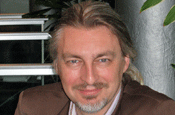 He joins from Saatchi & Saatchi, where he was the global creative director on Proc-ter & Gamble and the regional creative director, Western Europe, for Head & Shoulders.
Sinclair replaces Jonathan Burley and Jim Bolton as the lead creative on the McDonald's business following Burley's promotion to executive creative director in September last year. Bolton will continue to help Burley run the creative department.
Before joining Saatchis, Sinclair had spells at BMP, Lowe London, Ogilvy & Mather, Bartle Bogle Hegarty and TBWA. For most of his career, he partnered Ed Morris, with whom he created the much-vaunted Sony PlayStation "double life" at TBWA.
He said: "Jon is a breath of fresh air that blows back to why I got into the business in the first place."
Burley added: "James is an astounding writer and a bit of an advertising hero of mine, so to have him on the team is
brilliant, especially on the McDonald's account."