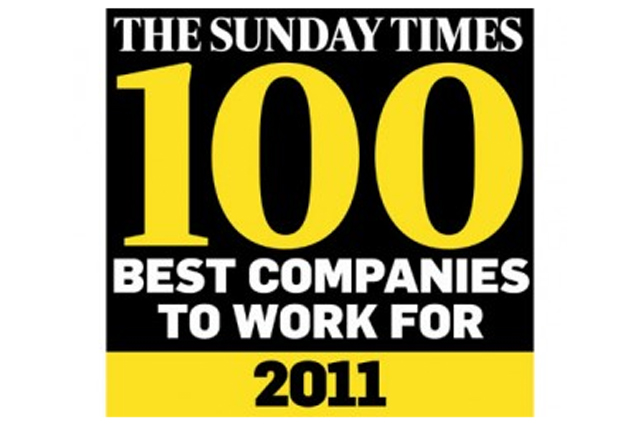 The 2011 Sunday Times list had 1,165 companies applying to achieve a "star status", with just 498 of these companies achieving the feat, split between small, medium and large organisations.
Based on staff feedback, organisations receive a Best Companies index score, which then determines the star rating compared to a fixed standard. MEC was one of the 498 companies and has been awarded a 1-Star Status Accreditation, which corresponds to a first class rating.
Leo Burnett, the only ad agency on last year's list, is the industry's best performer this year, jumping 20 places from 61 to 39.
Sarah Baumann, client service director and head of talent strategy at Leo Burnett, said: "People are our most important asset and we work hard to make sure we create an environment they want to work in and feel they can grow in.
"Coming in at 39 in this year's Best 100 Companies and being the highest ranking agency is a really good endorsement of our approach. We're especially happy that there is such strong commitment and belief in the agency's future."
Starcom MediaVest Group (SMG), the only media agency to make the list last year, has fallen out of this year's rankings. It has been replaced by WPP media agency newcomer MEC, which ranks 68th.
Clare Alger, people & culture director at MEC, said: "We've seen unprecedented success through engaged, inspirational talent, who are passionate about working at MEC and growing our business to the next level.
"It's an honour to be ranked as one of the top 100 companies in the UK to work for, and we're thrilled that within this, we've been considered the best media agency."
BBH is among the best companies to work for in the country for the first time in two years, ranked 69th. In 2009, BBH ranked 85th, while in 2008 it was placed 77th.
Engine, which owns WCRS & Co, Partners Andrews Aldridge and Jam, enters the list for the first time in 88th place.
This year's Sunday Times list is topped by commercial radio broadcaster UKRD Group.
Elsewhere, marketing data company Dunnhumby has just made it into the list at 100th, falling from 57th the year before. Experian QAS has fallen out of this year's list after charting at 59 last year, and WPP's market research agency Kantar is in at 99.
In 2009, other agencies in the Sunday Times Top 100 included Iris at 10th, AMV, 57th, BBH at 85th and DDB at 86th. Media agency MediaCom was placed 53rd.