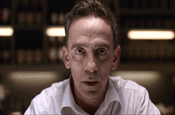 The move consolidates the drug drive business into the agency which already handles DfT's drink driving and child road safety accounts.

Abbott Mead Vickers BBDO, also a DfT roster agency, was the last agency to work on the account when it created an ambient campaign in 2005.

Burnett will now be briefed with creating a hard hitting campaign aimed at raising awareness of the dangers of driving while under the influence of drugs while also building the profile of the problem to the general public.

The work will be brought under the existing "Think" banner and will be the DfT's next area of focus.

Paul Lawson, the group managing director of Leo Burnett, says: "We're really pleased to be recognised for the great work we've done on Drink-Drive by being awarded this important additional assignment."

The agency's last big campaign for Drink Drive was "moment of Doubt".

The execution shows a barman talking to the camera in a number of voices acting out the process of someone being caught for drink driving.

The ad won Best TV in the Government category at The Campaign Big Awards.