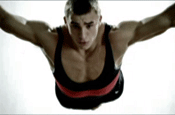 The Scottish Widows spot incorporates athletes and gymnasts and will debut on ITV1's Champions League coverage tomorrow night.
The 50-second spot features athletes performing choreographed routines, and who morph into model Hayley Hunt, the current face of Scottish Widows.
Andrew Edwards, group chief executive, Leo Burnett London, said: "It brings to life the fact that in both financial planning and sport, better preparation will lead to a better outcome."
The strapline for the ad runs: "We understand it takes more than one performance to win an Olympic gold medal. It takes thousands. We'd like to see if we can help you prepare for your future."