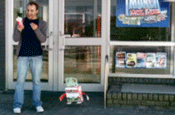 It has created an animated Monopoly board character to promote the new game at the fast food chain.
The spot launched last night on national TV.
In the 30 second spot, the character leads its amazed owner out of his house and down the street, showing him some of the prizes available. They arrive at a branch of McDonalds to play the Money Monopoly game.
The characters were real models, operated by puppeteers, requiring several weeks of post-production.