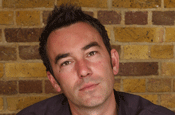 The former HHCL creative chief replaces Jim Thornton, who left the agency in July this year.
Burley, who joined Leo Burnett last year as a creative director, will now take overall control of Leo Burnett's 40-strong creative department as well as running the agency alongside Paul Lawson, the managing director, Ali Bucknall, the planning director and Nina Jasinski, the recently appointed marketing director.
However, the agency is still on the hunt for a creative director to work alongside Bruce Haines, the group chief executive, and oversee the creative strategy of the whole Leo Burnett group, including Arc, its direct marketing agency.
Burley said: "I am going to inject more ambition and greater aspiration into every department - not just in creative, but planning and account handling as well. We need to be exciting and ambitious.'
Jim Bolton, Burley's creative partner, will continue to work with him on creative duties as well as helping him run the creative department.
Burley started his advertising career in 1992 at WCRS. In 1998 he moved to HHCL and in 2003 was promoted to creative director before joining Leo Burnett in January 2006 with Bolton.