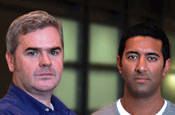 Jonathan Burley, the Leo Burnett group executive creative director, said: "Being a slightly old-school creative director in possession of an agency with a hugely exciting array of new-school creative opportunities, I'm very pleased to have Monty and Lance agree to help me press the importance of visual craft, whatever channel it is applied to.

"One couldn't hope to work with two more talented individuals."

Crozier joined Leo Burnett in 2005 from Leagas Delaney, where he spent 12 years working on award-winning campaigns for clients including Harrods, Adidas, the BBC, Barclays, The Guardian and The Observer.

Verdi joined Leo Burnett four years ago as an art director, working across brands including Kellogg, creating campaigns for Bran Flakes and Fruit 'n' Fibre.