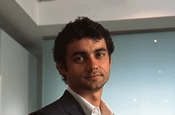 At the new agency, which is yet to be named, Moore will use his client background to head the media division and look at new ways to negotiate contracts with clients. He will join the agency in the new year as the third of six partners.

Moore has been at Diageo since 2001, where he managed individual agency relationships across the UK and Ireland. He has also worked in Diageo's procurement department and before that, spent time at the Irish television station RTE as a group sales manager.

The appointment is the first since Brock, the former managing director of Tribal DDB, and Dyke, the former head of planning at DDB London, quit their posts to launch the shop last September.