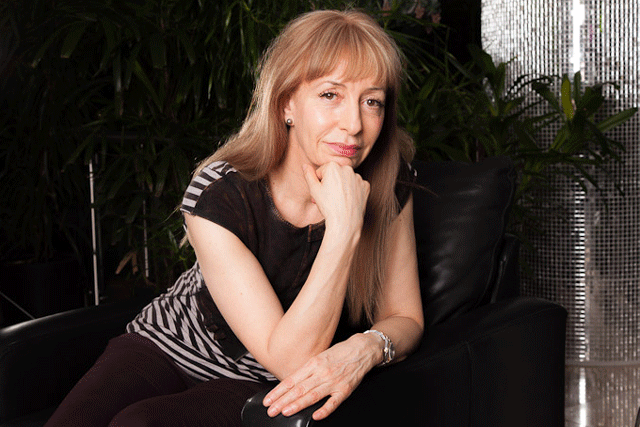 Thoughts, brain cells, connections
Baroness Susan Greenfield: "Thinking leaves its mark on your brain, even though there is no external movement. Every thought you have, every business plan, every logical argument, every story or memory has something in common: you end up in a different place. And that is the hallmark of human thought.
"The more you stimulate your brain, the harder it will work and the more it will grow. This also allows brain cells are able to make connections with other brain cells, which is really important when thinking about how we interpret our environment around us, and creating meaning around what we see.
"Connections liberate and enable you to see the world in a special way, where objects and people have a special meaning, and enables you to understand things beyond face value."
Our environment is changing
"We live in the information age, in an answer-rich, question-poor environment. We are constantly bombarded with information.
We live in the information age, in an answer-rich, question-poor environment.

.
"We now have the longest ever life expectancy - small children now have a one in three chance of living to be 100 - we've got the highest probability of good health, more leisure time than ever before, the greatest opportunity to develop as individuals as we've never had before to look beyond our basic needs.
"The impact of technology on our lives means you can now live (apart from going to the loo or eating) your entire life on the internet. You can work, play, shop, all in a parallel universe. Given the vulnerability and sensitivity of the human brain, how can we harness that technology to make and shape exciting worlds?"
Hooked-in hyper connection
"Now 90% of Americans are on the internet and 20% of them are online for upwards of 30 hours a week. That's five hours a day spent not walking along a beach, not giving someone a hug, not feeling the wind on your face - and the so-called Millennials spend even longer online, and many of you will employ this age range or have kids their age.
"The advent of Google Glass will give you augmented reality, with information and facts constantly bombarding you on top of your five senses. You will hooked in, hyper-connected all the time. And moreover, as soon as people will be going around in what I suggest will be perceived as a status symbol, where everyone will want one, it means that going back to living your life in a normal way, relying on just your five senses, will be very odd. I think this will be even bigger than the mobile phone."
'If you are not communicating in three dimensions then you are seriously missing out'
Body language, eye contact, voice - all of these are important for establishing empathy, and, yet, none of them are available on Facebook.
"Words only account for 10% of impact whereas body language, eye contact, and voice are invaluable for trying to gauge how people are thinking and feeling.
"Physical contact is perhaps the most powerful form of communication - all of these things are important for establishing empathy, and yet, none of them are available on Facebook. If you are not communicating in three dimensions then you are seriously missing out.
"If you take a human brain that has evolutionary mandates to adapt to an environment in which these skills are not being rehearsed, you are not going to be good at them, and you will shun them.
"People who are not good at interpersonal skills anyway are on the autistic spectrum disorder, they spend a lot of time in the cyber world. Sadly there are a lot of links between this disorder and compulsive video game use."
The under-developed prefrontal cortex
"The frontal part of the brain, the prefrontal cortex, is very developed in humans, but there is a link between an under-functioning prefrontal cortex and high risk taking situations.
"Bizarrely people with a higher body mass index, people who are reckless in gambling tasks, and people with schizophrenia display this. These groups of people are easily distracted, have a short attention span, and an inability to interpret proverbs. Anyone who gambles knows the high-risk consequences of gambling, but the thrill of the roulette wheel trumps the consequences; there is a drive for sensation over cognition.
"Icons or characters in video games provide a very literal take on the world, and of course it's a great lesson to learn that that you can kill someone and the next time you play it the character is obligingly undead. If you learn this as a child – that actions do not have consequences – I would suggest it makes you more reckless."
You haven't got friends – you have an audience
"No surprise then that empathy has dropped in people over the last 30 years, particularly accelerating over the last 10. But what does that say about you as a person? Nowadays you haven't got friends anymore, you got an audience and like all audiences you have to amuse them, you have to be entertaining, you have to be liked. And if you're not then perhaps that will be a blow to your self esteem, which is what people are finding from heavy Facebook users.
"Just think of those poor people on Twitter saying 'Look at me! I'm putting on one sock, look at me! I'm putting on the other!' This constant need to be acknowledged all the time suggests a rather fragile and weak sense of identity."
YOLO
"YOLO is a generational secret of the under 20s. When they are about to do something like get drunk or stay up all night they write 'Yolo' as justification – you only live once – showing a generational difference of wanting to live for the moment."
And what about leadership? You need to help people join the dots
"What's this got to do with leadership in the 21st century? The World Economic Forum this year published the issue of what they call the "Digital Wildfire," the dangers of being hyper connected and the spread of misinformation: information is not knowledge and just having facts does not mean they are particularly insightful.
Information is not knowledge and just having facts does not mean they are particularly insightful

.
"The kind of people you are going to be leading will be quite different to previous generations: they are efficient at information processing and have a short attention span. They will have a higher IQ because we know that video game rehearsal repeats all the mental agility that is required of IQ tests. However, being good at mental processing without being able to make connections or understand context doesn't mean to say that you understand about Syria or the economic problems of the world.
"You need to help people join up dots and relate facts to each other so they can really see the significance of them. If you put it in an ever wider conceptual framework, you can deeply understand something."
Travel broadens the mind
"What leaders do is set a vision. In travel, this wonderful thing that your selling is an experience. We need to go back to the idea that the mind is uniquely shaped by the environment , and the idea that travel broadens the mind.
"You can give people a sense of identity by giving them unique experiences, which helps to make them unique. They have a unique story to tell because they have gone there, they have done it.
"A journey is like a mini little life; it has a beginning, a middle and an end, you end up in a different place and journeys, like stories, are integral to the human psyche so if you can sell people a sense of purpose - rather than just being in the moment - finally you can give people new ideas."
Joining up the dots
"By experiencing new things, people have new dots to join up. An isolated fact can now be related to other facts and have a significance. You can then place it in the wider conceptual framework and have understanding, but now, if you are in a new place you can make unprecedented connections in a way you didn't before. And that new significance is a new idea, and that is the most exhilarating thing you can sell anyone."