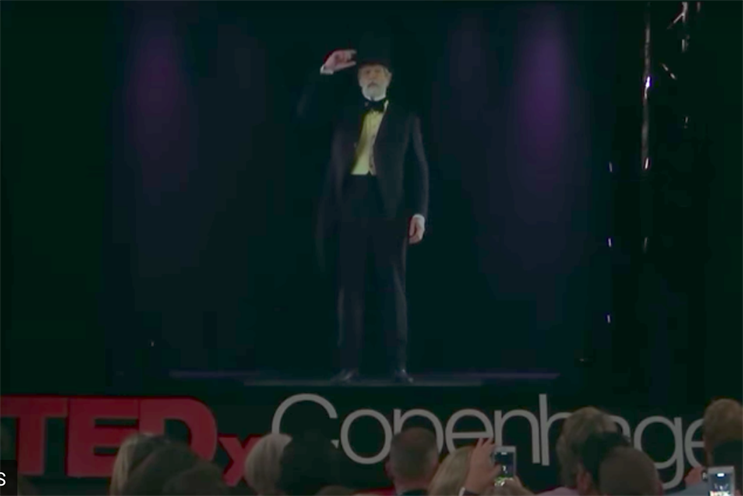 Both Michael Jackon and Tupac Shakur (and now, JC Jacobson) performed posthumously using the technology known as Pepper's Ghost, in which an image or video feed is projected onto transparent material.
Carlsberg originally chose to bring its founder back on the anniversary of his death to communicate both authenticity and help the brand compete in Belgium where the beer brand is up against countless rivals. But the idea, which was created by Belgian agency, Happiness, was picked up by the global company.
Here are five of the more memorable times when brands used holograms for marketing:
Burberry's holographic catwalk show in Beijing
It's one thing to project a single person on stage, but imagine projecting an entire catwalk show across the world. In 2011, Burberry celebrated the launch of its flagship store in Beijing with a show-stopping runway show.
Dita von Teese for Christian Louboutin
To mark 20 years of the celebrity shoe designer's iconic red-soled shoe, a giant sparkly stiletto morphed into Dita von Teese as part of a 2012 London exhibition at the Design Museum in Shad Thames.
KitKat Japan's small but perfect hologram
In Japan, the KitKat bar has become synonymous with "good luck" because it sounds similar to the Japanese phrase kitto katsu: 'you will surely win'. In 2016, the brand launched a hologram campaign aimed at exam-facing students. The bars came with a plastic pyramid that, when placed over a mobile phone, projected a hologram of the boy band DSH singing a good luck song.
Boots No7 and Alessandra Ferri
Legendary ballet dancer Allesandra Ferri performed with a hologram of her younger self last year in an ad for Boots No7's Triple Action Serum. Conceived by Mother, the ad shows Ferri dancing next to a hologram recording of herself when she first performed as a principal in a Royal Ballet production of Romeo & Juliet.
Intel, Lady Gaga and David Bowie
Lady Gaga teamed up with Intel for a tech-heavy performance at the Grammys, using digital makeup and other innovations to transform herself into David Bowie.