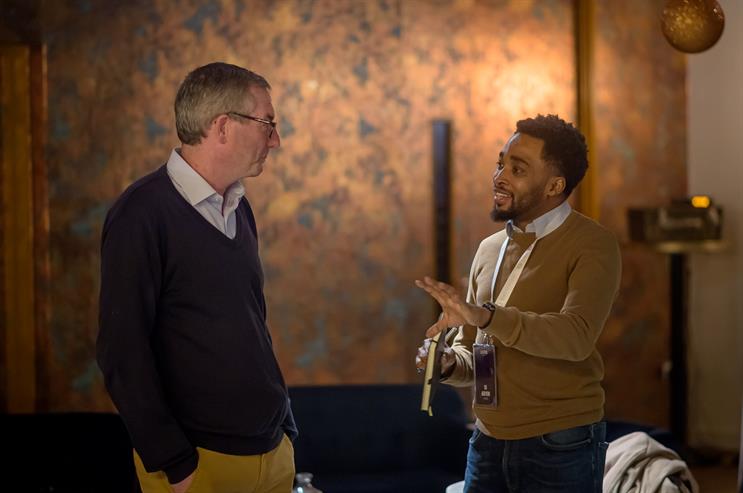 Conversational marketing is the latest phrase for something that will come as common sense to most brands – creating a dialogue with customers. What's changed is the way that technology, specifically mobile messaging, has supercharged the ability of brands to create an environment where conversation can benefit both brands and consumers.
"Consumers can communicate through whatever device they like and in their own time. It's a more natural way of communicating," said Alan Ranger, VP global market development at LivePerson, a leader in conversational commerce.
Conversation opener
Addressing the issue of how to plug the gap between marketing and sales on a panel hosted by Campaign's global technology editor, Omar Oakes, Ranger said conversational marketing could be transformational. With consumers now wedded to their smartphones for an average of almost four hours a day, messaging can accelerate the ROI and productivity of marketing budgets.
With platforms such as Apple Business Chat, Whatsapp Business, and Instagram Messenger, brands have the opportunity to move beyond one-way SMS to rich conversational experiences. When brands introduce messaging, consumers love it, said Ranger – 70% of T-Mobile users that were given the option to message in-app adopted the technology within three weeks of its introduction.
The business benefits are notable, too. LivePerson research found conversion rates for brands increased from 2% to 13%, and response rates went from 2% to 24% by simply changing one-way messages to a two-way conversation in which consumers could respond to a brand in the same channel.
Rather than being caught up in automated phone hell, consumers can use messaging platforms to kick off a conversation with a brand. They feel in control as they are opting into a conversation, and it can be started almost anywhere – from a website, through a QR code on your offline adverts, a product, in social media, from a voice assistant, and so on.
Time to engage
This opens up a new world of invitational marketing where brands invite consumers to start the conversation through codes on packs, marketing collateral, and in the AR future, simply by taking a picture of a product. The asynchronous nature of the communication means it fits in with their own time demands – they can start a conversation and act on it when it suits them.
For verticals, such as banks and telcoms companies, trust is important, so built-in features such as Apple Business Chat's authentication and payment systems have great appeal, allowing brands to create a trusted, branded environment that can cover the entire consumer journey.
Agency role
With agencies being challenged by digital marketing to move from creating views to providing clicks and ultimately to powering transactions, a more conversational approach can help, said Tim de Boer, head of gainshare EMEA, LivePerson.
"Marketing is about brand equity but it's also about conversion. You need business planners that understand ROI to make yourself more relevant to the CMO and help close the gap between marketing and sales," said De Boer.
An example is Tamara Mellon, a luxury footwear brand, which has connected the physical and digital worlds incorporating messaging. A mobile showroom lets shoppers browse all its styles and connect to messaging through a QR code to continue the transaction with a call handler, then or later. People are buying thousands of dollars' worth of shoes through messaging.
In the US, stadium catering company, Aramark allows sports fans to use Apple Business Chat to scan a QR code on the back of the seat in front of them, order drinks and snacks and have them delivered directly to their seat without missing a second of the game.
De Boer predicts a conversational battle within messaging as brands look to earn and retain the right to exist in the consumer's list of brands that they will communicate with. Tone of voice and branding will be key, and the opportunities are huge, said Christie Dahmen, marketing director EMEA, LivePerson. "It is entirely in the brand's hands. It can be as creative as you want it to be."
Cosmopolitan Hotel in Las Vegas shows how you can push the creative envelope. It has a digital concierge called Rose who embodies the property's Vegas sassiness in her responses. Guests who engage with her spend more than those who don't, and 90% of users recommend Rose.
Conversational marketing can fit into the existing marketing framework seamlessly said Sam Rosendorff, senior manager enterprise solutions at LivePerson. In addition, applications such as Apple's Chat Suggest offer new ways for consumers to message before they even make a call.
As bots get smarter and better able to respond to natural language, the opportunities for conversational marketing are growing too. For brands who have been shut out of direct relationships due to the growth of aggregators, it offers a tantalising opportunity to speak directly to consumers again.
Ranger calls it a "win, win, win", with threefold benefits: a better customer experience, with an average 20% increase in NPS; better business outcomes, including up to four times increase in sales conversion, and happier and more productive agents.
It sounds like it's time to have this conversation.