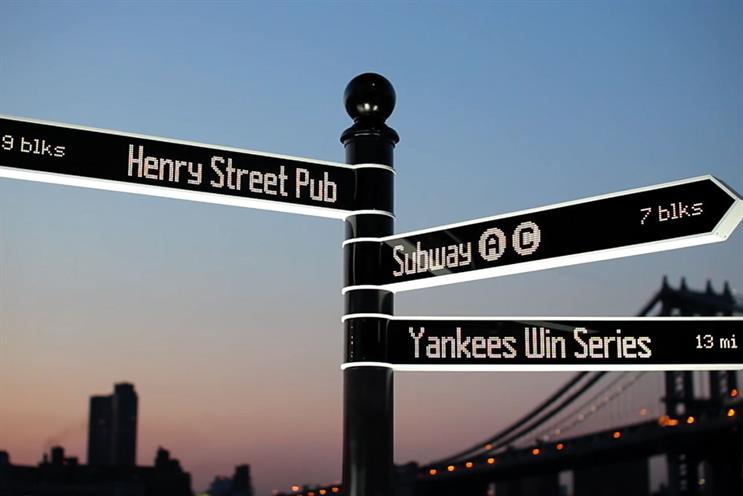 You know that little rush you get when you've just been retweeted or your phone is buzzing non-stop in appreciation of that luckily, artfully shot thing you just shoved on Instagram?
It's no wonder smartphones are the new drug; these naughty little endorphin smugglers. It's today's opium pipe. Less smoke but the same glazed, satisfied, pacified expressions of its users.
But how do we get our blue faces out of the screens and back into the real world around us?
Declaring a "war on devices" and banning them is likely to end the same way as the "war on drugs". It won't work.
Instead of denial, let's accept our new dependence on ego-data and provide a strategy of tolerance and integration for our digital vices.
As a range of recent product launches have demonstrated, perhaps the best way to get our faces out of our screens is to get the data out of devices and pipe vital digital "hits" into physical things. Then we can get our kicks out of objects that might resemble furniture more than screens.
For example, Smiirl's hit counters that allow companies to display their digital popularity are already popping up everywhere. The counters are connected to the Wi-Fi network and can link up to any social platforms to bring their figures – "likes", followers, subscriptions – into the physical space. Any "like" or "follow" that would otherwise be hidden on a profile somewhere registers with the satisfying flick of a physical counter on a display made from metal and wood. They act as both a visible, real-time reporting indicator and a symbol for growing status.
Another compelling example is Breakfast's signposts that will change direction according to where events are listed digitally. There's also the Bit Planner, which allows project management plans to be charted in Lego on the wall. The chart, with the aid of a smartphone camera, can be translated into a plan to be shared online.
As with any trend, there is also a critical take. I saw a wonderfully sardonic artwork by four Dutch students recently that features a piece of meat being repeatedly, mechanically slapped across Tinder, endlessly swiping through profiles. The title, Tender, says it all.
Beyond the need of alleviating neck strain by letting people look up from their devices, there's a more profound purpose driving the "physicalisation" of digital ephemera.
Organisations, as with individuals, are conflicted. We are in the biggest revolution since industrialisation. We intellectually grasp the changes we are encountering, but these changes are not manifested in the world around us. In the industrial age, we noticed that the trees and grass all turned into sooted brick and black cast-iron cranes, frames and heavy machinery. Although the changes were huge, they felt normal because our physical experiences mirrored those changes. That has not been the case so far with the digital revolution. There's a profound need for technology to meaningfully bridge our real and digital worlds.
When Poke helped launch EE a couple of years ago, we installed coloured lights in the call centres. If the data was telling us it was a good day for the brand and customers were happy, the lights would glow green; if it wasn't a good day, red. This made all these abstract metrics resonant and relatable. Those little lights counted more for morale than even the sexiest numbers left in raw form.
The Internet of Things debate has, to date, focused on control. But ego-fluffing and fun will soon be the order of the day in the world of connected objects, just as silly social has wrestled so much influence from the grips of sensible search.
When you go into someone's home, you rarely encounter a wall full of clocks and dials monitoring everything from financial data to relationship statuses. You'll mainly find art and pictures of familiar faces in memorable places.
So far, the Internet of Things has completely missed this, assuming that consumers want to control their homes through a dashboard, turning homes into futuristic spaceships. Humans are generally more human than that, so the Internet of Things will eventually bend to meet their squashy desires, rather than con-sumers shape-shifting to the whims of engineers and Silicon Valley venture capitalists.
I've been working in the area where creativity, business and technology meet for 20 years and I've seen the trend cycle move round and round again. The part I enjoy the most is the moment we're in now. The moment when the logical arguments fall away and creative, meritocratic play and experimentation establish new formats and folklore.
Our desire to be human is not going to be answered by going backwards. The answer will come from the creative, humanistic application of technologies in our environment. The signals that we've moved on but have managed to retain our values.
Nik Roope is the executive creative director at Poke London