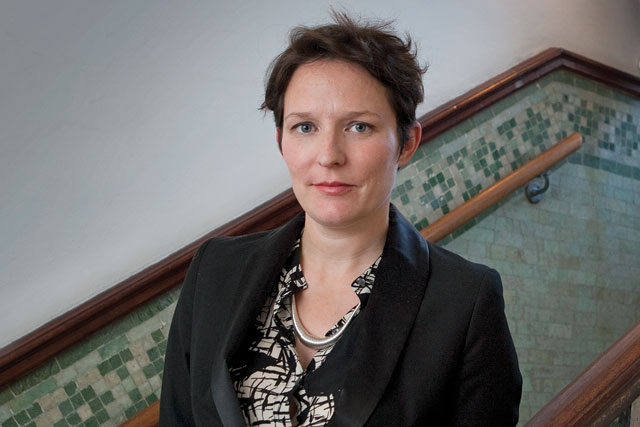 It's not that surprising that industry wags often swap the first part of Frances Ralston-Good's double-barrelled surname for the word "rather". As well as being a relatively droll piece of wordplay, the PHD managing director really is rather good - and, I suspect, she knows it.
She's not exactly smug - in fact, she's very charming and obviously intelligent - but she displays an assurance of her own worth and, more crucially, that of her agency. Moreover, Ralston-Good represents the new wave of PHD management that has filled the void left by the departure of the founders and their associated coterie. She was lured back to the agency from Naked Melbourne in February after the promotion of Daren Rubins to the chief executive position. And, no doubt, he saw her as a safe pair of hands.
This is Ralston-Good's second stint at PHD (she spent ten years there before taking a career break to train as a ski instructor), and she agrees that the ghosts of its founders have finally been exorcised. "It's a very different agency (to when I left in 2007). There's so many new people, and we've changed the way that we work and present ourselves," she says. Fittingly, the interview takes place in a communal area that used to be Jonathan Durden's office.
In fact, all of the large offices have gone. Even the vast one that was occupied by one of her predecessors - the diminutive Morag Blazey - has disappeared, as PHD has shifted its focus away from its personalities and show ponies (and egos) into something more businesslike.
You might think that this cultural shift with new people just represents a natural evolution, and when pressed for specifics as to how the agency has changed, Ralston-Good adds: "It feels like we're more commercial and that ideas are more grounded."
While there is a danger that evolution means PHD has lost some of what made it special in the first place, there is strong evidence that the changes have, in fact, produced success: PHD was named Campaign's Media Agency of the Year 2010 after a run of new-business wins and striking campaigns. It is flushed with more recent success in Cannes, where it picked up a gold Media Lion for its "Bruzil" campaign for Irn-Bru.
PHD is also part of a proper network at last - something that the agency founder David Pattison seemed to spend many years telling anyone who'd listen that this was what he was doing (while facing the difficulties of building from scratch). Under the worldwide chief executive, Mike Cooper, PHD is no longer the quirky-but-distinctive UK planning-led shop, but part of a bigger entity that can now pitch for global or pan-regional accounts.
Again, this indicates how far the agency has progressed. But, in the light of this, is there the danger that the rather indefinable thing that made PHD special in the first place will get lost as it cedes control to the Omnicom beancounters? Not so, Ralston-Good says. In fact, if anything, PHD London has been the blueprint that has been used to create this network, and she has been involved in the process.
Ralston-Good claims that she and Rubins have an even division of labour, with the latter concentrating more on new business, while she looks after the PHD offering and ensures that it is being delivered to clients. You can understand why clients value her opinion. While she doesn't come across as dynamic, she is measured, calm, sensible and level-headed - all useful attributes in uncertain times.
While last year's new-business efforts were impressive (PHD successfully defended one third of its billings when it was hit by a perfect storm of account reviews), it hasn't been doing quite so well this year. It languishes in 15th place in Campaign's new-business league, just behind those media powerhouses Eden and AdConnection. Therefore, more work is needed in this area - something that Ralston-Good says PHD is tackling, while she focuses on client retention and servicing. You get the impression that Ralston-Good is good at process.
Not that she is a blue-stockinged, buttoned-up corporate automaton. Although she is married to John Murray, the president of Aegis Media's Digital Action Group and a former colleague at PHD, her life does not revolve solely around work.
Nonetheless, it's easy to imagine this media power couple (a term that she laughs at when put to her) sat at home, enveloped in their Hampstead bubble, dissecting the finer points of media theory and brand strategy.
Easy, but not true. While the Ralston-Good-Murrays do meet up with the Pattisons (Lindsay of Maxus and David, late of the PHD parish), they find enough in common to not just talk shop. In fact, her decision to give up an already successful career in media to become a ski instructor in New Zealand shows an independent streak. "I wanted to do something dangerous," she says.
There's no danger that PHD will regret hiring her. Ralston-Good represents a combination of calm professionalism with an awareness of - without being beholden to - PHD's important cultural heritage that made it so distinctive. This makes her the very model of a modern general manager and, for both her career and - more importantly - the agency, this is certainly a rather good thing.
THE LOWDOWN
Lives: Hampstead, London
Family: Husband, John
Last book read: The Rational Optimist by Matt Ridley
Favourite TV show: Frasier
Alternative career: Ski instructor
Favourite holiday destination: Chamonix
Personal mantra: If you always do what you've always done, you'll always
get what you've always got