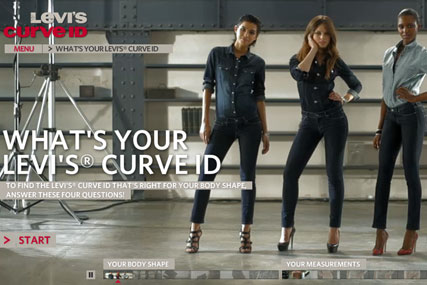 The
new digital offering
is based on the figures of 60,000 women worldwide, and is meant to be a step towards ending the frustrations in the "search for a perfect fit", according to Levi's.
Mary Alderete, the clothing company's vice-president of global women's marketing, said: "We started out by looking at the internal dialogue women have with themselves when trying on jeans. What we found is that when the jeans don't fit, women blame themselves instead of the jeans."
"By interpreting the numerous insights of the study's participants, Levi's was able to create a new system which would add to the traditional dimensions of jeans – length and width – by adding a third dimension. From now on, it is shape that counts, not size."
The "digital fitting experience" has been launched in 50 countries and in 20 languages.
Vincent Stuhlen, digital marketing director for Levi's Europe, said: "Our goal was to create an online experience that stayed true to the company's rich audio-visual heritage."
Olivier Abel, managing director of Duke/Razorfish, commented: "Levi's is setting up a new denim standard for women, totally inspired by their daily insights. So we also wanted to set up a new digital standard in the way of discovering and choosing a pair of jeans.
"It is a critical shift in the communication industry to see that a pioneer brand like Levi's has chosen to orchestrate such an historical product launch, by using digital as its global communication backbone. We're proud to have been a crucial part of it."
The apparel brand, known mostly for its jeans,
split with its advertising agency of 28 years, Bartle Bogle Hegarty
in July this year.
BBH's 1985 'Launderette' ad, starring the model Nick Kamen soundtracked by the Marvin Gaye track 'I heard it through the grapevine', led to a resurgence of the fortunes of the jeans manufacturer in the 1980s.