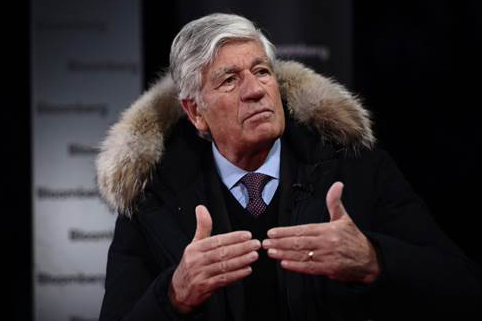 The former Publicis chief executive, who stepped down last year after 30 years, said optimism had grown because of expectations that global growth would be close to 4% this year.
Speaking to Bloomberg TV at Davos, Lévy explained: "If you look at the global growth that we are expecting, we are close to four per cent, a number that we have not changed since 2007. So, it's 2007, 10 years, that we have not had such a growth.
"In the US, according to [president] Trump yesterday, he is expecting to have more than 3% and is pushing to get something in the region of 3.5% to 4%. If this is going to happen, this will certainly fuel a lot of investment in marketing and sales."
This is despite the correlation between growth and adspend being "broken" in recent years, due to digital disruption and the financial crisis aftermath, Lévy said.
"These rules have been broken a few years ago, thanks to digital, and also to the crisis. And also, to the problems advertisers are facing with pressure from activists, pressure from retail, pressure from e-commerce, etc," Lévy added. "So, this rule is no longer applicable as it was. Nevertheless, there are some kind of correlation. And the fact that growth is back, advertising should go up. That's clear. And we expect advertising market to grow up."
Lévy said he was also part of a group of "40 to 50" business leaders who attended a dinner with US president Donald Trump, whom he described as "a showman" and "fantastic".
"…I'm just trying to say, he was owning the room yesterday. We were, I don't know, 40, 50 people in the room, all CEOs. He did a fantastic job at owning the room. To say that he is quite good at communicating is I think obvious and everyone knows that."
However, the 75-year-old would not be drawn on whether his successor Arthur Sadoun will stick to the targets set by Lévy when he vacated the chief executive role last June.
Sadoun approved the strategy to move the group closer to digital consulting but has not endorsed 2018 targets which included an operating margin of 17.3% to 19.3%, Reuters reported last year.
Lévy said: "We are in the quiet period now. So, I'm sorry, there is nothing I can say. But what I can tell you that I'm extremely pleased with the choice which has been made… I think that we are going to surprise a little bit of the market."