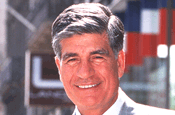 Speaking to the International Herald Tribune, Lévy said that GM and other car-makers have already cut adspend, and would do so again next year.

Along with GM, Publicis has car manufacturing clients including Renault, Toyota and Fiat.

Lévy said of GM: "Nobody should think they are not conscious of cost. They are very tough on us."

Publicis expects further reductions from GM and other car-makers as they streamline their product offerings, he added.

He also predicted that 15 per cent of global adspend would be online by 2015, and that Publicis wanted to make digital acquisitions in China and India.