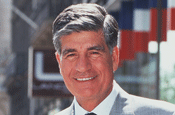 But he confirmed that the group-wide salary freeze currently in place would not be reviewed until the beginning of July.

Levy was speaking as the group reported revenue growth of 3.8 per cent for 2008 and an operating margin that reached a record level of 16.7 per cent.

Net income for the group, which embraces the Publicis network, Leo Burnett, Saatchi & Saatchi, Fallon, Zenith Optimedia and Starcom MediaVest, was 447 million euros.

But despite the group's admission that growth had slowed during the fourth quarter, Levy insisted there would be no mass redundancies.

"We've prepared ourselves by managing our headcount in a very prudent way and are reviewing things agency by agency," he told Campaign. "We're not hiring too far in advance but we're not contemplating massive lay-offs. That's disrespectful to the people who are our most important assets."

The group is looking to its activities in emerging markets and its investment in digital following its $1.3 billion purchase of the digital marketing specialist Digitas in December 2006, to pull it through the current economic storms.

It said it was "positive" about Europe thanks in part to a good performance by Publicis Conseil in Paris and last month's capture of the one billion euro account of Carrefour, the continent's largest retailer.

But it described the UK as being in "negative territory". Levy said: "It was to be expected. The Publicis agency in London had lost traction and a new team was put in place."

North America, where the group's organic growth was 4.4 per cent, was benefitting from the dynamism of the digital sector. But fortunes in the Far East were mixed with strong organic growth in China and India offset by declines in Japan and Korea.

The Publicis Groupe's figures followed an announcement by Omnicom that it had suffered a 14 per cent drop in fourth quarter revenues. "We've a huge respect for Omnicom and to have done better than them is most gratifying," Levy said.