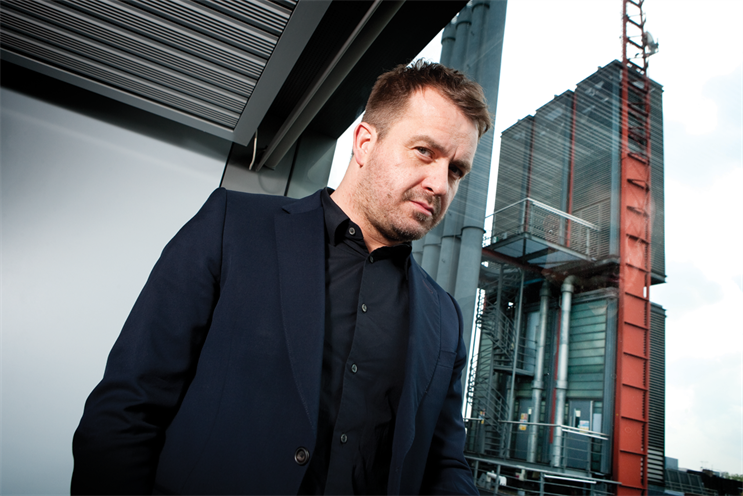 Jonathan Lewis, the head of digital innovation and partnerships at Channel 4, has just returned from Aegis Media's shiny Regent's Place office and feels rather cheated. It is not that Azon Howie doesn't appreciate Channel 4's evolving commercial proposition, but because Lewis has just had his bike nicked.
Security guards aside, he says that Channel 4 is enjoying good support from agencies at present, not least for the broadcaster's new data-led approach to segmenting video-on-demand audiences.
If you are aged between 16 and 24, the chances are Channel 4 knows where you live and, increasingly, what you like to watch.
In just three years, the broadcaster has collated details from more than half of this elusive demographic.
They form part of Channel 4's new database of more than ten million registered viewers.
People have been lured by access to thousands of archived shows, as well as exclusive previews and live events. For example, last summer viewers enjoyed live streaming from the V Festival.
Commercially, trials using the data for demographic targeting have proved so successful that all of the main agencies are now using it "in a big way", according Lewis.
"I think 20 per cent of our business will be against demo-targeted audiences this year, and I think that will grow to 50 per cent in the next two years," he says. "It's a big, big shift, but it delivers. We're now delivering the granular audiences bought for TV for VoD."
Lewis is the first person to hold his role at Channel 4, and his arrival ended a near year-long search by the sales director, Jonathan Allan. Now 18 months in and part of the broadcaster's leadership team, Lewis says Channel 4's viewer-engagement strategy is starting to gain momentum: "I think we went through a process last year of building up a team. This year, we're starting to see the fruits of our labour."
The segmentation is said to be priced at a "slight premium", while research has found that ad recognition rises 67 per cent and brand awareness and click-through rates more than double.
Lewis says the first-party data becomes even more valuable over time, when viewers' profiles are developed and overlaid with third-party data, not least from Experian and Twitter.
It's undoubtedly innovative but, with total online revenues still only £61 million, in the context of a wider advertising and sponsorship portfolio that fell £8 million year on year to £825 million, the contribution remains modest.
Another key focus for Lewis is Channel 4's branded content output, a space that has drawn its share of criticism. Only a few weeks ago, ITV's commercial director Simon Daglish warned brands entering the content arena that it remains "fabulously difficult", and that at least 90 per cent of content is "crap".
Lewis says he takes a "slightly more strategic approach", with the emphasis on developing "bigger, fewer, better" solutions. Channel 4's new seven-figure deal with Waitrose is said to embody this.
He notes that Waitrose has a legacy in content creation as a publisher of its own successful magazine. "Channel 4 can take that learning a step further and offer amplification," Lewis says. "It's tapping into the commissioning talent and skill that we have with Jay [Hunt, the chief creative officer] and her team, to get the right people on screen to make engaging, entertaining content."
You want to go where the audience is and not always expect to be the sole destination for viewing content
It took less than two months from initial talks to air Weekend Kitchen, a live Saturday-morning cookery show hosted by Lisa Snowdon and Steve Jones and commissioned for 13 weeks. Lewis admits the ambition is to take it through to the end of the year.
Lewis acknowledges that the approach is more akin to the partnerships he brokered at his former employer Channel 5, and suggests that it would not have been possible at the Channel 4 of old.
"What has changed is the engagement level we have with commissioning, so commercial and creative are working much closer together," he says. "The relationship between the two teams is so much better, I think."
The Waitrose deal will produce short-form premium content that will "live on 4oD", but is Lewis comfortable about it appearing elsewhere, such as YouTube?
"I don't see why not," he says. "I think, ultimately, you want to go where the audience is, and not always expect in the digital landscape to be the sole destination for people to view content on."
It is worth noting that Lewis and Channel 4 introduced Jamie Oliver to Gravity Road's Mark Boyd at their upfronts event last year. The pair have since explored a number of new partnerships, not least the launch in April of Drinks Tube with Bacardi.
The reminder is enough to jolt Lewis to expand on what 4oD has to offer. "I think YouTube is an interesting platform. It is quite hard to navigate and find content, and, also, it is not curated and it is not commissioned in any respect. I think people do want to be navigated towards good stuff. We see there's a role there for editorial curation, and I think that's what Channel 4 brings."