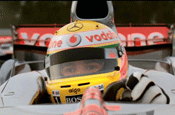 The 30-second film, created by BBH, features Hamilton driving through the city in parallel with a man racing to meet his lover.
Hamilton starred in another ad for Vodafone last year during his debut F1 season.
In the latest spot, his car speeds over urban bridges and through alleyways, with a voiceover talking about "decisive moments" that mark the difference between winning and losing.
It also makes a parallel to fleeting chances and opportunities in life saying that "once second can make the most of everything".
The pan-European campaign broke on Sunday during the first F1 race of the season. Last week, Hamilton's rival Fernando Alonso was appointed to represent ING in a global TV ad created by Iris.