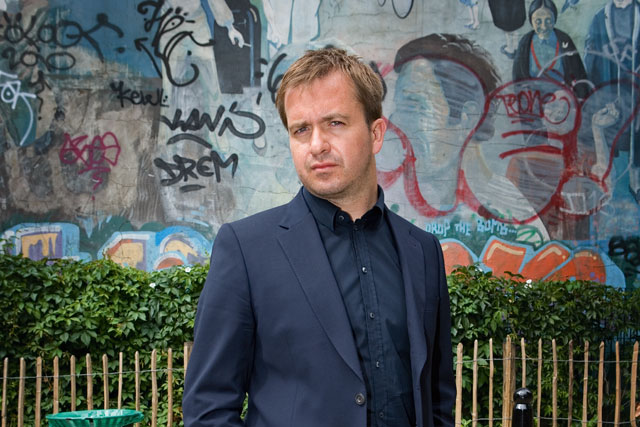 The gag is finally off. Jonathan Lewis is now able to talk about his role as the managing director of Vevo, the ad-funded music video site backed by Universal, Sony and the Abu Dhabi Media Company. In true American corporate style, neither he nor Vevo would confirm his arrival until he started this week, despite the news breaking two months ago.
"We thought we'd make a clean break, and make the announcement when we can hit the ground running," Lewis says. As most people had heard the news, he adds, there was no point confirming it until he started. After all, gardening leave is something his former boss Richard Desmond has a habit of watching carefully.
The chance to work within a new company, albeit one with some weighty backers, was what attracted Lewis to the role. "I wanted to work for a start-up," he explains. "I wanted to build something from scratch. It's a great proposition - its relative size and its position. It was too good an offer to turn down."
Lewis is not a man who changes jobs lightly. He was at Channel 5 in various roles for 15 years before he got the call from Vevo. Most recently, Lewis was the director of digital across Northern & Shell, a position created following Channel 5's acquisition by the company in July 2010. Previously, Lewis was the head of digital at Channel 5 for five years.
Well-known in the industry, Lewis' former reputation of being popular with the fairer sex has been superseded by his role as a devoted family man with young children. The keen swimmer and snowboarder is known for being "quite a snappy dresser". And, in his smart jeans and black shirt, Lewis only has positive things to say about Northern & Shell and Desmond, its chairman and owner.
That said, he must be aware of the colourful reputation of his former employers. "I've learned a lot," he says. "Desmond makes decisions very quickly, and they know how to turn a profit."
In terms of online audience, Vevo claims to be bigger than Channel 5. According to (self-published) figures, Vevo had 19 million unique viewers in May and is the fourthlargest UK video property, after YouTube, Amazon and the BBC.
All this is just the beginning, as the Vevo.com site only launched at the end of April. "It will be game-changing in the UK," Lewis says, perhaps a little over-optimistically. "There's no question. And the main reason for that is in terms of scale already. The other thing is that it's not only delivering incremental reach for branding campaigns, it also offers targeting."
As well as music from Universal Music Group, Sony Music Entertainment and other major labels such as EMI Music, Vevo also has deals with independents such as the New York-based electronic label Ultra Records. Of the 8,000 artists on the site, the most popular include Adele, Tinie Tempah, LMFAO and Nicki Minaj.
Lewis describes the 30,000 videos and programmes on Vevo as "a staggering amount of content", and he is keen to stress that they are not all short-form music videos. Vevo develops content strands with brands and artists: a recent GoShow, or unplugged session, saw Florence and the Machine perform in a New York subway.
"There will be lots of opportunities for brands to create content and sponsor content on the platform," Lewis says. "Ultimately, the big thing for us is to work with brands in new ways, so we can offer a more creative and joined-up proposition for their overall communications plan. I don't want to be wanky, but you know what I mean."
Lewis says he is proud of the fact that Vevo had Android, iPhone and iPad apps ready at launch - something ITV has only delivered in recent weeks. As he navigates through the iPad and iPhone apps, he enthuses about the "user experience" and explains that the service shows one pre-roll ad every seven minutes.
"The philosophy in the States is to manage the amount of advertising you view in any one session," Lewis says. Vevo's click-through and completion rates are proportionately higher than its competitors' because users are "more engaged", he says. And by competitors, Lewis means broadcasters, rather than services such as Spotify.
Online video is a difficult and fragmented market, as Arqiva has found to its cost with SeeSaw, but the industry is confident that Lewis is the man Vevo needs.
"He has that rare ability to join a commercial brain with a creative brain," Kelly Williams, the former sales director at Channel 5 and the incoming director of TV sales at ITV, says. "He's perfect for the Vevo role. If anyone can make it a success, it's him."
Lewis is described as "innovative" by media agency execs, many of whom wish him well, but remain to be convinced by Vevo.
"It's a tough gig," Rhys McLachlan, the managing partner, futures and implementation, at Media-Com, says. "But if anybody in the UK can make a success of it, it's him. He's got unrivalled contacts and is open to experimentation."
While Vevo appears to have been a success so far, its composition as a private company means that it has yet to reveal any revenue figures, let alone comment on profitability. The personable, well-connected Lewis is a good choice as UK chief, and Vevo's user experience is one of the best in the market, but it will be up to him to convince the sceptics how game-changing it will be.
THE LOWDOWN
Age: 40
Lives: Queens Park, West London
Family: Married with two daughters, Marni (aged five) and Esme (aged two)
Motto: Work hard, never stop asking questions and be prepared to make mistakes
Favourite music video: Beastie Boys' Make Some Noise