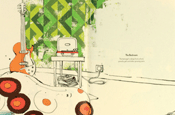 Agency Insight, which is handling the process, has approached a number of undisclosed agencies for credentials meetings before it holds a pitch.
PAA will repitch for the account.
The decision to review the business is understood to have been motivated by a shift in strategy for Lexus, which is owned by Toyota, as it seeks to place greater emphasis on digital direct marketing.
The successful agency will take responsibility for prospect and customer management campaigns, which will seek to nurture relationships with existing customers as well as driving sales to prospective consumers.
PAA was appointed to the account in October 2001 following a three-way pitch. Lexus had previously used WWAV Rapp Collins.
Since its appointment, PAA has produced numerous direct marketing campaigns, the most recent of which was its "compendium of dens, hideaways and other thinking spaces" booklet.
The mailing, which was a pastiche of a 50s boys' adventure book, emphasised the peace and quiet provided by the cars and encouraged consumers to book a test drive.
Matt Button, the CRM and database marketing manager at Lexus, said: "The time is right to re-evaluate our whole approach to acquisition, prospect relationship marketing and customer relationship marketing and prepare ourselves for the future."
Phil Andrews, the chief executive at PAA, said: "No agency welcomes a review, but we've been working with Lexus for seven years and we feel at this point its an excellent opportunity to reinforce our relationship with the brand and demonstrate how we can keep up with its needs with a wider offering."