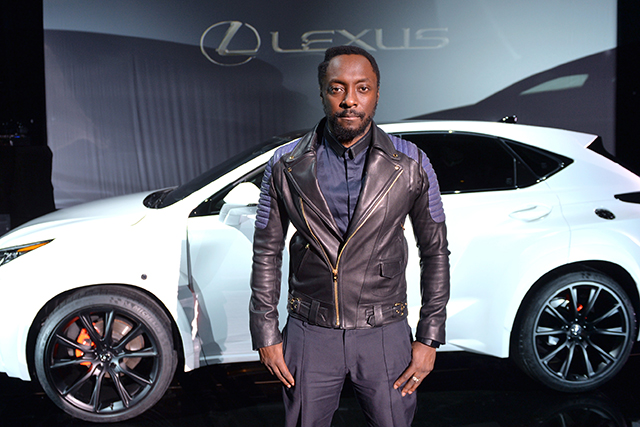 The new model of the Toyota-owned car brand was unveiled at a lavish event in Paris last night. It will be marketed under the strapline: 'Striking angles'.
The brand, which in the UK has traditionally appealed to the over-55s market, is seeking to challenge the 'big three' – Mercedes, BMW and Audi - and capture more of the over 25s market.
Will.i.am revealed a one-off specially designed bespoke Lexus NX F Sport at the launch event last night, driving it on stage before an exclusive DJ set.
The campaign, which kicks off 1 October with a TV ad featuring Will.i.am, includes what is claimed to be Lexus' biggest ever digital campaign as well as print and outdoor.
UK brand communications manager Lisa Fielden said the company had also partnered with Oculus Rift to create a virtual and "exhilarating" driving experience featuring the model and was "using channels we haven't don't before" for the campaign.
"It's a huge investment for us – the single biggest investment we've done this year and our total is about £6m," she said.
"We're trying new experimental stuff - we're no way near as big as BMW, Mercedes and Audi so we're never going to have that level of spending so we have to try things differently and try new things.
css slider
by WOWSlider.com v6.4m
Big ambitions
"It's a big launch, it's the big highlight of the Lexus calendar and a huge opportunity for us as a new segment. It's a new audience for us – we're quite a small player at the moment with big ambitions to grow, and this gives us access to a slightly younger target audience."
Head of European marketing, Chris Taylor, said: "This is a game changer for the Lexus brand and it's significantly important to us for two reasons, from a business perspective next year in Europe [the NX] will represent about a third of our volumes, secondly we're trying to attract this new audience to Lexus - it's an urban car aimed at younger people and it marks a threshold for the brand.
Will is a champion of design, creativity, innovation, it's exactly what Lexus stands for
"From a brand perspective, it's a great product that marks a new step in design direction for us – it's much bolder, more innovative. The campaign idea is 'striking angles' and we thought long and hard about getting a celebrity who was relevant and credible and from a value perspective had empathy with the brand. Will is a champion of design, creativity, innovation, it's exactly what Lexus stands for."
The NX, which is available from 1 October, has already hit its pre-order target, Lexus said.
"The Lexus brand has evolved and has much more awareness in the US, here we don't currently have the awareness that they enjoy on the other side of the Atlantic, however this campaign will help us get better known as a brand –and Will is going to help us capture that audience," Taylor added.
He said the brand has "big ambitions" to grow sales in Europe and that there were "new product plans down the track" that were not previously associated with Lexus that would help to establish it as a "challenger" brand.