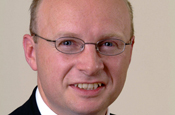 He also wants COI to consider branding the Government's anti-recession measures in an umbrella ad campaign.

Such a move could provoke allegations that an umbrella campaign would also aim to convince voters that the Government is acting to limit the scale of the downturn.

A similar row broke out when the then Tory Government ran a multimillion-pound "Action for Jobs" blitz in the 80s.

Byrne, a key advisor to Gordon Brown, has taken personal charge of COI since being promoted in the Cabinet reshuffle last October.

He is impressed that the Directgov government website is attracting ten million visitors a month but wants a further push on using the internet.

Byrne also wants much greater use of regional media in its communications, believing it has been consistently undervalued.