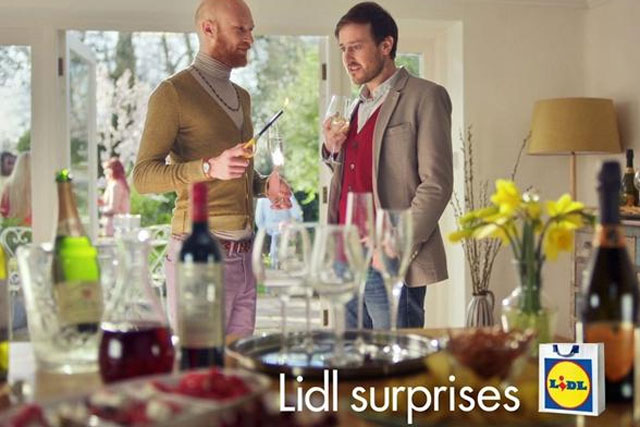 Lidl's marketing spend on paid media has increased from £21 million in 2012/2013 to approximately £50 million in the past 12 months.
In ongoing attempts to lure shoppers away from the big four supermarkets, Lidl has spent in the region of £26 million on TV ads, £20 million on press and more than £1 million on outdoor, according to Nielsen data. This has been supplemented with advertising in cinema, radio and online.
The media activity makes Lidl M2M's largest spending client, and it is an account the agency is likely to fiercely contest.
The media review is believed to be led by Lidl UK's head of media, Sam Gaunt.
Lidl, whose advertising agency is TBWA\London, has made significant gains in the grocery market since the economic downturn.
The latest data from Kantar Worldpanel tracks Lidl with 3.9 per cent of the UK market for groceries, making it nearly two-thirds the size of the Co-op.
However, Lidl now faces new challenges in the market as the wider economy continues to recover and its bigger rivals focus on price cuts and promotions in a bid to retain market share.
In its last financial year, Lidl reported annual sales growth of 8.8 per cent – the first time it had not achieved double digit growth since 2012.
Lidl did not respond to requests for comment by time of publication.
The German retailer becomes the latest British supermarket to review is media arrangements in 2015.
In February, Sainsbury's retained PHD to handle its £60 million media account, followed by Tesco ending a 24 year relationship with Initiative and awarding its media business to MediaCom after a competitive pitch process.
According to Kantar data, Tesco continues to be the market leader with 28.6 per cent of the market, followed by Asda (16.6 per cent), Sainsbury's 16.5 (per cent), Morrisons (10.9 per cent), The Co-op (6.0 per cent), Aldi (5.3 per cent) and Waitrose (5.1 per cent).
News of Lidl's review of its media planning and buying is likely to put pressure on the remaining UK supermarkets to also review their media arrangements and ensure they are still receiving deals in line with the recently recalibrated market.
Dentsu Aegis's Carat is the incumbent on Asda while Morrison's media business is handled by WPP's MEC.