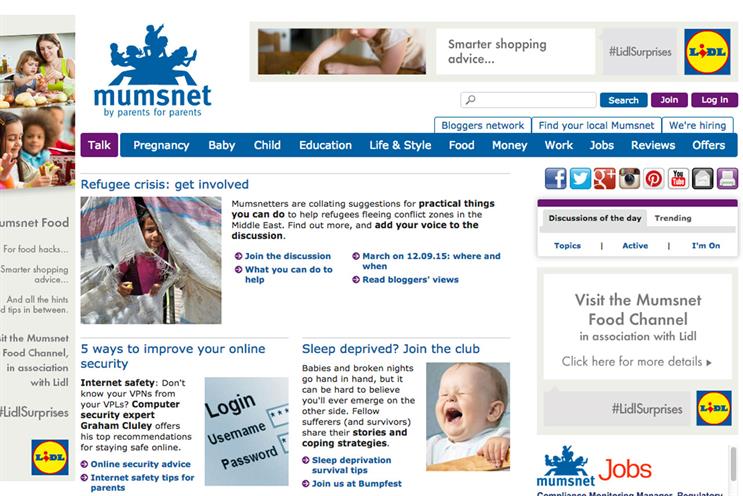 The one-year partnership started yesterday (7 September) and has launched with a homepage takeover. It will also feature Lidl UK branding across Mumsnet Food content pages, forums and newsletters.
Unique content will be created for the section on a monthly basis which will include articles, recipes and videos.
It comes a month after Lidl appointed Starcom Mediavest Group to run its £70 million media planning and buying account. TBWA/London has held the supermarket's creative account since 2013.
Justine Roberts, the chief executive of Mumsnet, said: "It's been fascinating over the last few years to see how positive Mumsnet users have become about Lidl.
"Our experience is that deep, long-term and smart brand engagement with our audience can have a really significant effect on attitudes and sentiment.
"We're looking forward to creating useful, shareable content that will shake up the weekly trolley-dash."
The partnership launches this week with three videos showing Mumsnet bloggers sharing their Lidl shopping experiences and meal planners for their weekly shops.
Arnd Pickhardt, the advertising and marketing director at Lidl UK, said: "We are the supermarket that is on mums' side, helping them to save huge sums with their weekly shop whilst still bringing home quality food for their families.
"We hope that this new partnership will give even more families the tools they need to become smarter shoppers."
Last week Lidl's rival Aldi revealed it was launching a new YouTube channel. The channel, called The Taste Kitchen, will provide consumers with recipe ideas, food news, and trends as well as hints and tips.