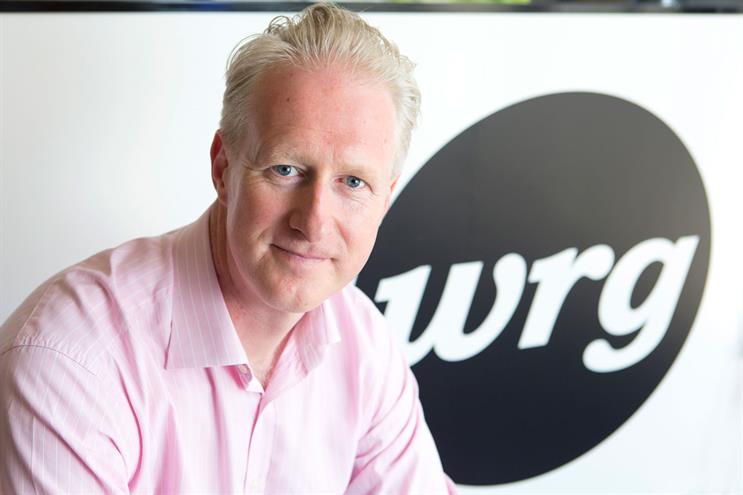 WRG, which is headquartered in Manchester and has offices in London, Hong Kong and Basel, is a live events specialist with a staff headcount of around 150 and works for clients including Shell, Adidas and Google.
Lidstone will mostly split his time between the London and Manchester offices as the agency plans to evolve its offering.
He replaces David Sharrock, who continues as the company's chief operating officer and chief financial officer.
The agency is owned outright by Lloyds Development Capital, a private equity firm, and had a turnover of £59m last year.
Lidstone told Campaign he was attracted to the role because WRG is a "hidden gem" with a global reach and had scope to grow and evolve.
He said: "More and more companies are trying to create events and experiences and use that for content and amplification. If you look at some of the last IPA Bellwether reports, such as for Q1 2016, the increase in more spend to the events and experiential spaces is second only to internet.
"I am keen to evolve our strategic and creative capability and leverage the strength we have as a micro-network."
Lidstone, who has worked in advertising for 25 years, left Havas after nine years in January 2015 following a restructure that brought together Havas Worldwide London and Havas Work Club. He joined the agency as chief strategy officer, when it was known as Euro RSCG London, and was promoted to CEO in 2009. He was previously the head of planning at J Walter Thompson London.
While his new role at WRG marks a "departure", Lidstone said the barriers between advertising, PR and media were coming down and was excited by being involved in the industry in a new space.
He said he "did not want to go back to an advertising agency, necessarily" but had explored the idea of launching in the months following his exit from Havas.
Ian Plummer, the chairman of WRG, said: "WRG prides itself on staying ahead of the curve in the ever-changing, fast-paced world of comms. Our priority is finding the most innovative, exciting ways to engage audiences for our clients.
"We believe Russ is the right person to lead us onto the next level. He has an enviable track record and brings not just the experience of running an international agency and leading blue chip organisations, but a genuine enthusiasm and ambition to WRG; the sort that will appeal to existing clients and a whole host of new brands and businesses that are looking for gold-standard comms."