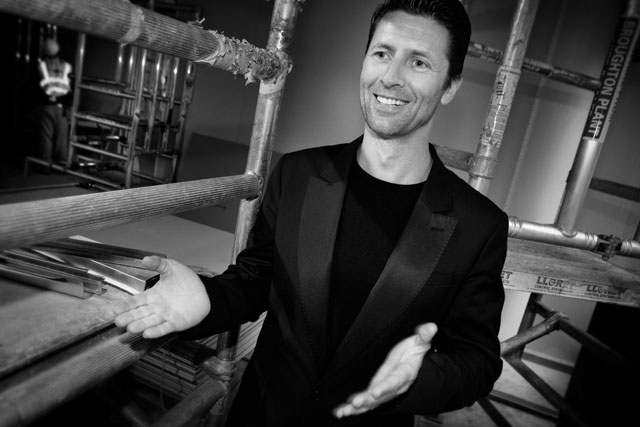 Brands and consumers are involved in an ever-more complex, technologically enabled relationship, and traditional broadcast marketing is struggling to make the mark it once did. The answer, Malcolm Poynton, the chief creative officer, Europe at SapientNitro, says is to throw away the full stop in communications and invite consumers to participate in the brand story. Welcome to StoryScaping.
Campaign: What is StoryScaping?
Poynton: Today's consumers interact with brands across a broad landscape – physical, virtual and experiential – but the brand experience is often very different in each. Storytelling has always been at the heart of human experience and communication, but it has become disparate in marketing. Taking from games developers' systems thinking enables brands to scape their story across this diverse range of landscapes.
Clients are already starting to realise that they have to engage with their customers in a different way. They are moving out of the siloed mentality of the past, but agencies haven't moved with them. There are gaps emerging because of the always-on nature of the world today, and they need ways of addressing this. StoryScaping is our way of doing that.
Campaign: So how is StoryScaping different from traditional advertising?
Poynton: Agencies are evolved beasts that have been created to deliver a sophisticated story in a 30-second spot, 48-sheet poster or print ad. But that communication remains one-way at a time when consumers are looking to engage more with brands.
The shutter comes down on communication that ends with a full stop. It should be replaced with a comma, inviting greater participation.
Campaign: Where do you start?
Poynton: You need an organising idea, which is different from the traditional agency approach of coming up with a big campaign idea and pumping it out through the channels. If you are a brand with a transactional website or a social programme, this season's campaign may be irrelevant to what you are doing in those channels. Paid-for online media is not the answer – nobody is watching those video pre-reels or clicking on banners. An organ­ising idea should be relevant for advertising, but also for digital, transactions and technology.
For Ladbrokes, SapientNitro built a trading platform that allowed it to launch a plethora of betting options. We came up with the idea of "Game On!" to encapsulate the excitement of having a bet with your mates. Everything now delivers on that frisson of excitement. When you bet on the mobile app, your win is communicated by the overexcited "Game On!" guy Tiziano jumping out of your phone to celebrate with you.
Campaign: Who should deliver a StoryScaping campaign?
Poynton: Collaboration is the key, but it's something traditional agencies are petrified of. Old-style creative teams are no longer relevant. You need a different set of skills – social, experiential, digital, editorial. Collaboration is at the centre of most of the things we do and we have a more diverse array of people than most, and they genuinely interact. Clients get pressure from holding companies to use all of their agencies, but it works best when it's not forced.
A great example was Oreo's 100 days of celebration, which brought together a multi-disciplined team with the client sitting in the middle, and has driven a huge level of participation. It has 33 million followers online.
Campaign: What are the implications for clients?
Poynton: Clients know they have to change structurally and organisationally. They are already knocking the walls down and reconstructing in a way that reflects how their world has changed. You are starting to see roles like chief experience officer and brand editors appearing. The chief marketing officer is metamorphosing as a lot of technology is coming under the marketing role. Marketing backgrounds are becoming more diverse than in the past because marketers have so many levers to pull.
That's why the organising idea is so important. It's no longer just the ad idea.
Campaign: How is creativity affected by StoryScaping?
Poynton: There is an emotional, physical and virtual landscape that any story has to run across. You have to deliver an emotional story to connect with people. Historically, that has been the role of the 30-second broadcast. However, that no longer fits with people's experiences, given the many other channels through which we can connect emotionally.
If you are talking about a social or transactional website, then creativity is applied differently. If Ladbrokes had simply plastered the brand characters Tiziano or Chris Kamara over its website, it would not have been making the most of the StoryScaping opportunity. However, when you press the bet button and the site goes to an active state of "Game On!", you know that consumers are getting some of that passion.
The retail space, too, is changing as digital becomes more embedded. John Lewis has introduced a virtual Store Associate app. You point your phone at the shelf and you are provided with store partner and consumer reviews of the product. As consumers get more involved, this becomes richer.
Campaign: Is the 30-second spot dead?
Poynton: Absolutely not. You will always need to attract people, but that has to be followed by the opportunity to take action and, ultimately, to make a transaction. There will be a more exacting role for the 30-second spot. With second-screen tools such as Zeebox, you can shop directly from the ad, and people will interact differently so it will have to come alive and be exciting. It will be a richer engagement.
The rise of second-screen viewing is a phenomenon that is moving different outcomes. Scheduled programming does not fit around the needs of people today, particularly younger viewers. Ultimately, StoryScaping is about the consumer, and not the channel or the brand. And, for that, you need a story system that gets rid of the full stop at the end of your communications and introduces the comma to invite consumers in.
SapientNitro is hosting an invitation-only event on StoryScaping, iEX 2013, at the London Film Museum on 29 May. Visit www.iex2013.com

The mechanics of StoryScaping
First up, look at the intersection of your client's brand purpose, consumer insight, product/service positioning and the category insight – here's where you'll find the organising idea. It guides everything from how you communicate, to what experiences you design, to new product development, technology decisions and collaboration.
There is no distinction between online or offline when it comes to StoryScaping, just a story system guiding continuity of experience and message that invites consumers to join and participate across the emotional, physical and virtual landscape in today's always-on world.
Invite and create action among your target audience. Get rid of the full stop and replace it with a comma, to make it easy and intuitive for consumers to become part of the story. Contributing to conversation, contributing content, sharing ideas, responding to challenges and participating in events are all ways to get involved.
Collaboration is essential. No CMO has the time or desire to sign off on every Tweet. Just as no single company can handle every aspect of the production, PR, innovation, experience design, technology and build. That is why the organising idea is so important. Be prepared to trust the partners you are working with.
Connecting a brand to consumers no longer resides only in the hands of the creator of the 30-second spot. TV is still an important weapon but, increasingly, many other avenues trump broadcast for relevance and engagement. Be creative with which comes first, with the customer interface, with technology and with the partners you choose. Great stories can start with a Tweet as easily today as with a TV spot.
Listen to what your customers are telling you. Use the information to develop the products they want. Now that you've made them part of your story, use the story system to take what they tell you to help make the communications and experience even richer and more engaging.

StoryScaping in action
Oreo 100th Anniversary

You would have thought there was nothing new to say about 100-year-old cookies, but Oreo brought together a cross-disciplinary team that delivered a daily twist of content every day for 100 days. Starting with a declaration of support for Gay Pride, Oreo's newsroom approach allowed it to take the plaudits at this year's Super Bowl, when its "You can still dunk in the dark" Tweet captured the US audience during the third-quarter blackout.


Coca-Cola Liquid and Linked

Coke's marketing philosophy of "Liquid and Linked" has freed the brand to work with an array of partners to further its story. Coke has adopted a fluid approach that emphasises stories, spreading content and creating value, no matter what shape or format the idea exists in. Organising around "Open Happiness", it has collaborated with music, events, digital and ad agencies, as well as the arts.


Ladbrokes Game On!

The bookmaker has been operating since 1886, but it had lost its number-one position because it hadn't moved quickly enough in the digital world. A new trading platform enabled it to launch 756 different betting possibilities during every football game. Creating a StoryScape around the organising idea of "Game On!" engaged consumers in fresh new ways beyond 30-second spots. In fact, collaboration between the technology and communications teams resulted in the TV spots becoming interactive through the mobile phone, in real time, to create the ultimate betting experience. This way, the consumer is helping to write the "Game On!" story with every interaction.


Royal Bank of Scotland GetCash

Leaving home without payment cards is infuriating and inconvenient. As part of the Royal Bank of Scotland's "Here For You" StoryScape, SapientNitro created an app to let customers access their cash from ATMs without their card. The service provides a six-digit PIN that releases the money. Response has been hugely positive, with great social media feedback contributing to the RBS story.


Foot Locker Sneakerpedia

Foot Locker reconnected with its hard-to-reach sneaker-head audience thanks to the social platform Sneakerpedia. With the organising idea of "Enthusiasm beyond reason" guiding all it does, Foot Locker's StoryScape connects broadcast film, digital media, retail experiences, staff training and social media. Since the launch of Sneakerpedia, the world's largest sneaker archive, Foot Locker has enjoyed a double-digit uplift in business.