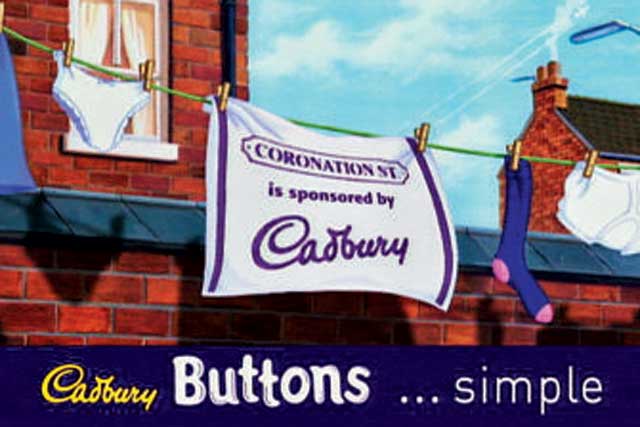 March 1996: In a deal negotiated with Granada Media Sales' chief executive, Mick Desmond, Cadbury's then media agency, Carat, signs the biggest TV sponsorship agreement in UK history. For £10 million a year, the confectionery giant allies itself with Britain's favourite soap, Coronation Street - it gets opening and closing credits, plus the rights to run off-air promotions featuring the show's stars.
November 2006: Cadbury had been struggling to keep the sponsorship fresh, both strategically and creatively. But, with its marketing efforts in the doldrums following a salmonella scare (and the resulting bad press), it decides not to renew the deal.
July 2007: ITV soon finds a replacement, however. In a two-year deal worth £20 million, negotiated by Starcom MediaVest Group, the furniture retailer Harveys gets a package that includes off-air licensing and merchandising rights, as well as break bumper credits across all episodes of the soap, which now airs five times a week on ITV1, with repeats on ITV2 and airings across interactive, mobile and online.
April 2012: Harveys had extended the agreement - and its creative executions, particularly HMDG's "Anna and Katie" vignettes, were much praised. But, in April 2012, Harveys too calls it a day, saying that it feels the time is right to consider something new.
July 2012: The opportunity doesn't lie fallow for long, as Comparethemarket.com signs a £30 million three-year deal, negotiated by ZenithOptimedia's sponsorship and content division, Newcast. Simon Daglish, the group commercial director at ITV, says: "This is a long-term commitment from both parties around two of the most exciting and loved brands in the UK."
FAST FORWARD
July 2015: This time around, however, burnout happens even quicker, with Comparethemarket suggesting that, with the Coronation Street audience more fragmented than ever, the sponsorship just doesn't deliver the value it once did. But ITV is quick to fill the gap, scoring a coup by signing a deal with the heritage "technology" company Google, which, at this stage, is still trying to break into the entertainment business.