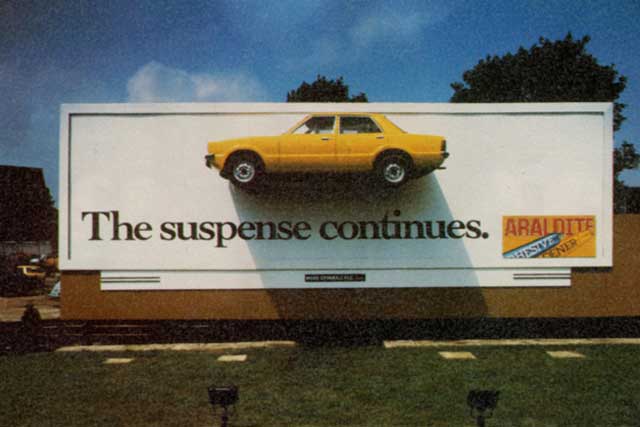 1983 ... The first really notorious stunt on a Cromwell Road outdoor site comes when Araldite seemingly glues a real car - a yellow Ford Cortina - high up on a roadside poster. It's so striking (or, indeed, sticky) that it almost stops the traffic.
1996 ... During Euro '96, Nike erects an electronic screen offering news and updates from the football tournament. In 1998, The Times erects a six-metre sculpture-clock that begins a countdown to the Millennium and features a news-ticker display too. In 2001, Channel 4 gives us a taste of things to come when it installs the "biggest working TV set in London" (six square-metres) on a Cromwell Road site.
2001 ... Some of the most interesting and quirky specials involve an appeal to a broader range of senses. In 2001, Heinz Salad Cream hires a man to eat one of its Cromwell Road posters (and, indeed, the site itself). It would take him two weeks to complete the task. Another interesting food-and-drink stunt in 2006 sees Magners install equipment on a poster site to shower passing cars with "apple blossom".
2010 ... But some initiatives have been epic. For instance, the terracotta army that Virgin Atlantic installed to plug its Shanghai route in 1999. In 2010, for its World Cup campaign, Nike constructs a mini homage to Mount Rushmore featuring England footballers.
2012 ... The company with the most Cromwell Road inventory, Clear Channel, had flirted unsuccessfully with the idea of introducing digital screens back in 2006. Now, JCDecaux takes up the running by deciding to digitise all of its Cromwell Road sites. The inventory, rebranded as The Cromwell Road Digital Gateway, includes seven new digital billboards in addition to its existing digital locations: the Cromwell Road i and the Cromwell Road Digital.
FAST FORWARD ...
2014: With increasing amounts of Cromwell Road inventory switching to digital, it had been assumed that the days of the stunt special were over. But Apple manages a new twist by constructing a seven-metre super-sized iPad on which it plans to run its epic new television commercial non-stop. There's huge controversy when the Highways Agency bans the initiative for being a potentially dangerous distraction to drivers.