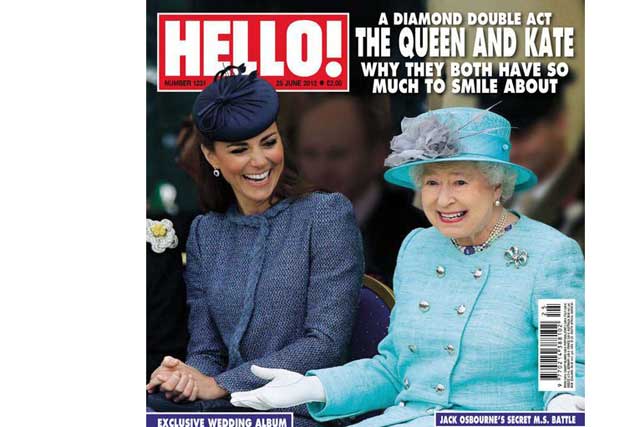 May 1988: Hola! had been launched as a "people-centred" magazine in Spain in 1944. Now it spawns a UK version and says a big Hello! with a launch issue featuring Princess Anne, flagging up what it claims is the first one-on-one royal interview published in a British glossy.
July 1999: The Hello! formula - slebs and minor royals inviting the magazine's readers into their lovely homes - proves instantly popular. It's not long, however, before it faces interlopers on its rapidly evolving celebrity patch. OK! launches as a weekly in 1996 and Heat debuts in 1999. And the cut-throat nature of the business is brought to light when OK! moves heaven and earth to gain exclusive rights to the Beckham wedding in July 1999.
February 2002: The former Conde Nast executive Charlotte Stockting had joined Hello! in June 2000 to bring a little more oomph to its commercial performance - and there's soon talk of initiatives (for instance, a Hello! TV channel) to take the fight to the opposition. But ABC figures for the second half of 2001 show just how daunting a task this is: IPC's Now is the celebrity market leader on sales of 552,744, with Hello! on 526,947.
February 2011: By the end of the decade, sales figures are fragile across the board in the celebrity sector, with coverprice discounting rife as a short-term remedy - and, while it's true that Hello! had held its circulation above 400,000, it had slid down the league table of celebrity titles. In February 2011, when a period of especially severe discounting at OK! fails to bear fruit, Stockting brands the practice a "disaster" for the sector as a whole.
September 2012: Stockting reveals that the magazine will no longer be found under the celebrity classification in ABC reports but instead under women's lifestyle and fashion. It will now "compete more visibly" with Grazia, Stylist, Glamour, Marie Claire, Elle and Red.
Fast forward ...
May 2014: But when women's lifestyle titles begin discounting like there's no tomorrow, Stockting decides it's time to move on again. Punting the latest issue, in which the International Monetary Fund's Christine Lagarde invites readers into her lovely French home, Stockting announces that she wishes Hello! to be regarded as an economics and current affairs title. In response, The Economist cuts its coverprice to 49p.