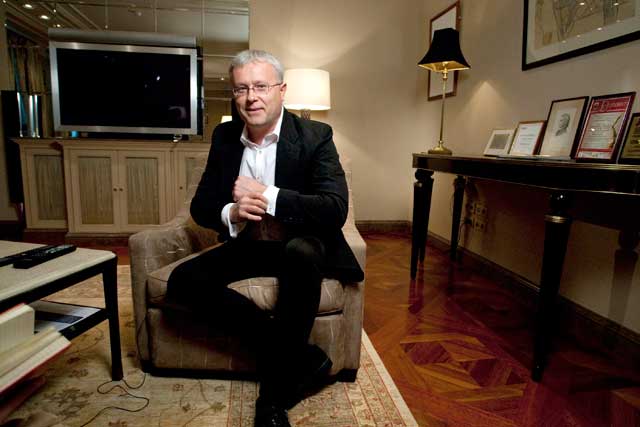 September 2011: The former KGB officer Alexander Lebedev, the media-owning patriarch of the idealistic yet feisty Russian Lebedev clan, forces home some of his points in a Russian TV debate by punching the property developer Sergei Polonsky.
December 2011: But the family proves it can be just as idealistic as it is feisty when it announces that it is setting up The Journalism Foundation, a body tasked with promoting and sustaining "free and fair" journalism. The Lebedevs already own UK newspapers, of course (the London Evening Standard and the Independent titles), but this high-minded move is expected to integrate the family more fully into British public life.
April 2012: And yet the clan's otherness is underlined when the latest Sunday Times Rich List is published - and the feisty and idealistic father and son, Alexander and Evgeny Lebedev, are still missing, failing to take their place alongside other British media moguls.
August 2012: And this may prove a cause for regret. When Ofcom invites applications for licences to run local TV stations, the Lebedevs announce plans to launch an idealistic yet feisty London station; but there are four rival bids, including London8, led by the former Channel 4 chairman Luke Johnson, and YourTV London, headed up by the ex-politician Steven Norris. Headlines point out that the Lebedevs plan to "fight it out" for the franchise.
September 2012: It now emerges that Alexander has been charged in Russia with "hooliganism motivated by political hatred" for the 2011 TV punch-up - and could, as a consequence, face up to seven years in prison. Feisty Evgeny Tweets to the effect that his dad is actually being punished for being too much of an all-round idealist.
FAST FORWARD
December 2012: As the London TV bid process nears its conclusion, Alexander squares up to Jeremy Paxman on Newsnight when (in a spirit of idealism) Paxman appears to question Lebedev's claims that he used to be a KGB hardman. Paxman does a runner and is found hiding behind some wheelie bins round the back of the studios. Ofcom issues a statement arguing that the incident proves Lebedev is a fit and proper person to own a TV licence.