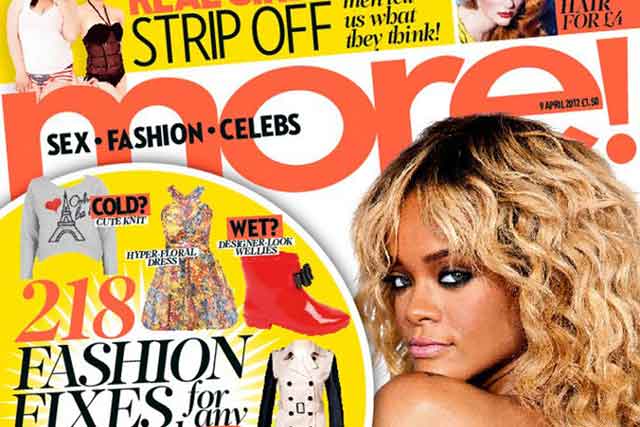 July 2007: Having launched in 1988 as a fortnightly title targeting older teens, More! revamped four years later as a young woman's lifestyle glossy. And, in July 2007, it rejigs as a weekly to counter the threat of IPC's recent entrant, Look. Its secret weapon is its risque "position of the week" feature.
August 2008: As the January-June 2008 Audit Bureau of Circulations figures are published, More!'s position of the week is the position of circulation disaster - as it's revealed that the title's sale has tumbled a vertiginous 38 per cent year on year to 162,544. This is a particularly painful position to be in - and usually results in chafing.
August 2009: More!'s editor, Lisa Smosarski (who departs to launch Stylist magazine), hands over to Chantelle Horton. Jo Morrell, the title's acting managing director, says: "I know Chantelle will continue to evolve More!'s position."
October 2011: The magazine extends its brand into radio, with the news director Leigh Purves chosen to fill a More!-branded slot on The Hits Radio, a station owned (as is More!) by Bauer. The three-hour show seeks to blend Top 40 music with celebrity stories, style and beauty tips.
June 2012: Following year-long research into the tastes of the magazine's audience, More! relaunches with stories that are more relevant to readers' lives - including "real people" fashion shoots, careers advice, finance, entertainment and travel.
Fast forward ...
September 2012: Circulation at relaunch had been just over 150,000 but, with this number now swelling thanks to Horton, More! celebrates with an inspired position of the week, with accompanying tips on avoiding carpet burns plus fashion advice on matching curtains.