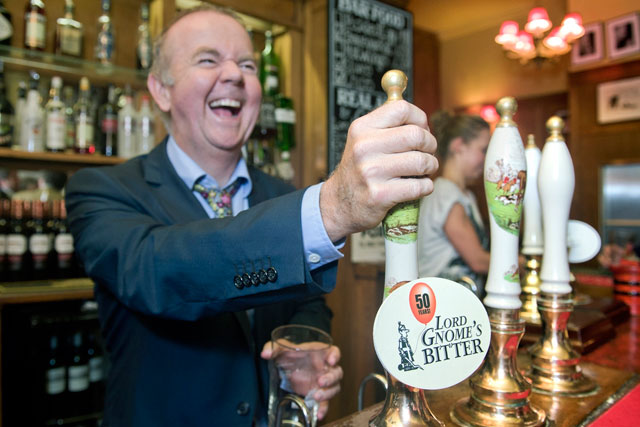 October 1996: A young, thrusting, talented and immensely generous (You're fired - Ed) Ian Hislop is hired as Private Eye's creative figurehead by its proprietor, Lord Gnome, in 1986. He doesn't let Gnome down ... in 1996, he links with Whitbread to sell Lord Gnome's Bitter on tap.
April 2000: Private Eye's circulation and coverprice had never been better but, mystifyingly, other aspects of the organ's commercial performance had been rather flaccid. In a bid to rectify this, Lord Gnome bids a tearful adieu to its incumbent advertising sales partner Madison Bell and shouts a cheery hello boys* to a new sales outfit, The Communications Team. (*And girls too, naturally, as appropriate.)
August 2002: The apogee of Hislop's career comes when Campaign gives in to insistent demands that we interview him - and he uses the occasion to reveal he likes advertising and has never been able to get enough. Clearly, though, this is about to change - Hislop comes across as a media planner buyer and starts spouting stuff about target audiences, ABC1 readers and demographic groups. We nod sagely and write it all down.
October 2003: But, sadly, Lord Gnome is again forced to dust off his "it's not you, it's us" speech as The Communications Team is "let go" and, in its place, his Lordship appoints McMillan Scott. It falls to Hislop to announce the appointment and he pretends he is joking when he states: "Private Eye has identified a strong synergy with McMillan Scott's core values and sees the partnership as a mission-driven joint restructuring of its consumer interface."
September 2011: By the time Private Eye clocks up 50 years, though, it is shacked up with Ten Alps. As part of the celebrations, Lord Gnome cheerily fires Ten Alps and begins stepping out with the ever-optimistic romantics at Redactive Media Group.
Fast forward ...
May 2012: DIY! With Stratford Olympic ad budgets on Lord Gnome's agenda, he sets up a new multi-disciplinary structure in which copy for commercial partnership projects can be produced by the editorial team overseen by Hislop, who has an extra role as a creative content director. Hislop authorises a raid on the petty cash tin and sends someone out to buy three sheets of Letraset and a full set of Crayola crayons.