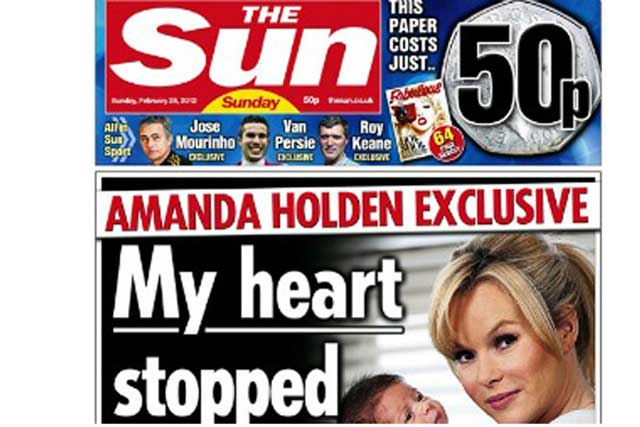 11 July 2011 ...
After the publication of the last edition of News of the World, as the market digests figures showing that it sold around four million copies, rivals begin plotting ways to capture a newly disenfranchised Sunday readership. The Mail on Sunday unveils a DM campaign, while the Sunday Mirror and The People gear up for heavy promotional activity. Indeed, the Trinity Mirror titles catch a decent wave, almost doubling their circulations in July.
26 February 2012 ...
But their run is short-lived - News International returns to the Sunday red-top market with the launch of a Sunday issue of The Sun. Audit Bureau of Circulations figures reveal that, across its first full month, the paper sells an average of 2.4 million.
30 May 2012 ...
With the window of opportunity apparently closing, senior managers at Trinity Mirror now look to emulate The Sun's new seven-day publishing philosophy. Lloyd Embley, the editor of The People, is offered the editorship of a merged Daily Mirror and Sunday Mirror editorial team, prompting the defenestrations of the Daily Mirror editor, Richard Wallace, and the Sunday Mirror editor, Tina Weaver.
15 June 2012 ...
The Sunday Mirror had seen year-on-year declines since The Sun on Sunday's launch - but, in May, the NI title fell back 55,000 to 2.24 million, while the Sunday Mirror posted a 0.5 per cent rise to 1.09 million. The Sun on Sunday continues to slip back in June.
15 August 2012 ...
There had been speculation that Phoenix Newspapers, a company headed by the former Sunday Express editor Sue Douglas and former ITV director Rupert Howell, had been attempting to acquire the rights to the News of the World title with a view to a revival. Soon after, it emerges that talks between Phoenix and representatives of Richard Desmond have taken place over an offer for the Daily Star Sunday.
Fast forward ...
28 September 2012 A potential Desmond deal having fallen through, Douglas is bombarded by calls from Guardian Media Group about The Observer. Instead, she enters into negotiations with the Sunday Sport owner, David Sullivan, recently returned from an expedition to investigate claims that a previously unrecognised form of intelligent life had been discovered, encased in glacial ice, at One Canada Square, London E14.