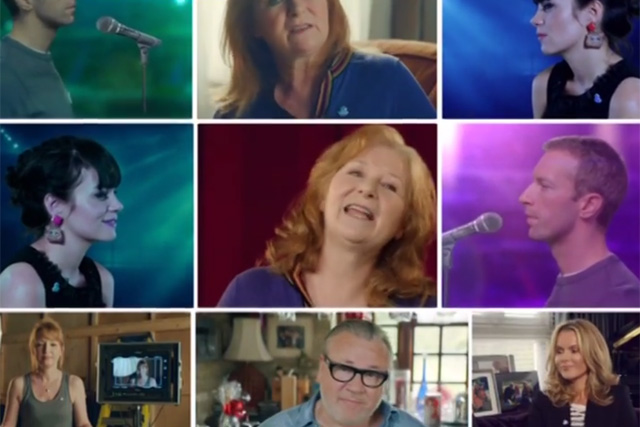 The initiative forms part of the Prime Minister David Cameron's 'Challenge on Dementia', which he launched two years ago with the aim of creating "dementia-friendly communities".
Lily Allen, Ray Winstone and Chris Martin are among the celebrities who will feature in the ad, created by DLKW Lowe, which aims to make the nation more tolerant towards the 700,000 people living with the dementia.
With 30 celebrities making an appearance, the ad is understood to feature the highest number of celebrities in a public sector campaign.
Public Health England, the body responsible for the Government's health marketing, is also in discussions to make the song available on iTunes, having negotiated the rights to the song for a year.
The campaign, which also features Levi Roots, Amanda Holden and footballer Leighton Baines, aims to encourage one million people to become a "Dementia friend" by watching an online film explaining the disease, created with the Alzheimer's Society.
It will launch with a prime time 'roadblock' tonight (7 May), running the 60-second TV ad across 40 channels between 7pm and 7.45pm and will air for the rest of the month.
Explaining the thinking behind the campaign, Public Health marketing director Sheila Mitchell told Marketing: "It's about what we can do to get people to understand a bit more about what dementia is and be more tolerant and kindly."
Mitchell said the celebrities were giving their services for free and had all been touched in some way by dementia. "It's Live Aid for the 21st century," she added.
An employee engagement programme working with brands such as easyJet, Marks & Spencer, Superdrug and Greggs is also part of the drive.