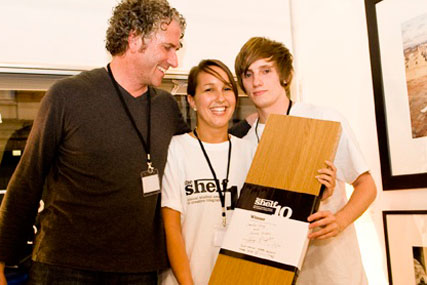 The team beat off competition from five other teams at an event attended by close to 200 guests from the agency world who voted on the best work.

Gray and Hobbs' student portfolio, including work for brands including The Body Shop, was described as "highly original with a strong understanding of the real world" by Gary Sharpen, the executive creative director at WDMP, who organises The Shelf Awards.

The Shelf Awards celebrated its tenth anniversary with a judging at the Getty Images Gallery on Thursday night. It was launched to help graduate and other young teams find placements at agencies and over 100 students have benefited over the years.

Attendees at last night's event included Barney Cockerell, executive creative director at Rapp, Steve Stretton, creative partner at Archibald Ingall Stretton and Mike Cavers, executive creative director at The Marketing Store.

Sharpen said: "What swung it for Charley and James was that they had a real strategic insight to their work. Then it was executed in an eye-catching and highly relevant way. They were very integrated in their media thinking and you could also run a lot of their campaigns tomorrow."
He added that he was "pleasantly surprised" at the high standard of copywriting in the entries. "Fewer and fewer students know how to write well, so when it happens, it's great."