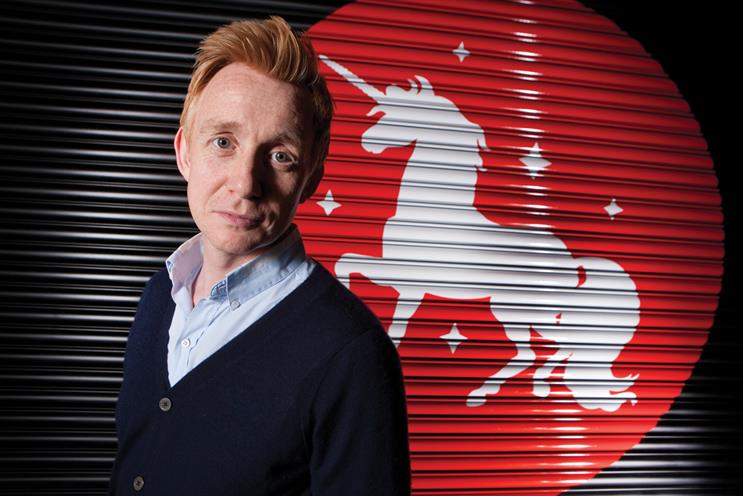 Ed Ling, the UK media director and chief media officer at DigitasLBi, is relieved to be back at a pure-play digital agency.
DigitasLBi operates from trendy offices on London's Brick Lane, where bearded hipsters pass by on their way to Shoreditch, and Ling sees this as a world away from the Southwark office of his previous employer, WPP's MEC.
Ling joined LBi in February last year just after it had been bought by Publicis Groupe for £333 million and was being merged into the Digitas network. His remit is to drive DigitasLBi's digital business both in the UK and internationally.
A digital veteran who has lived through the turbulent years of the tech revolution, Ling spent nearly a decade as the strategy director at i-level, the UK's original independent digital shop, leaving in 2008 before its collapse in 2010. He then helped establish the start-up AnalogFolk before realising that, while
he is entrepreneurial, he lacks the nerves of steel required.
"I got nervous when there was more money leaving than coming in – I've got three kids," he explains. So he opted for the security of a big network, heading MEC's international division for three years, gaining experience of general management and handling international business in an established agency.
But he is glad to be back at a digital shop, he says, and warms to LBi's approach. "It is ambitious and entrepreneurial. It reminds me a lot of i-level, that energy and restlessness – it's really sexy. I'm not saying MEC isn't sexy; I think it's a slightly different business."
But times have changed since i-level led the way in the digital world. The big media agencies have caught up with the pure-play digital operators and most have hundreds of specialists on the payroll and can offer clients SEO, digital display buying and affiliate marketing as well as traditional media buying and planning. So where does that leave DigitasLBi?
"To get the most out of digital, you have to think about media, creative and technology together," Ling says. "That is where we feel we have the uniqueness, because we have depth in all of those areas. Clients are looking to reduce capability in paid media and increase leverage in the owned and earned space.
"My role isn't just paid content; it's to link with the owned and earned media across the full spectrum. And that's one of the main reasons that brought me here."
The fusion of LBi and Digitas has combined a strong digital network in the US with LBi's strengths in Europe and history in web technology, building websites and applications. The latter's main clients in the UK include Eurostar, Disney, Bupa, Barclaycard, Danone and Premier Inn, for which it handles SEO, affiliate marketing, programmatic display and pay-per-click. The agency works with Virgin Atlantic on its website and with Sony Mobile on creative content. It expanded its SEO marketing capabilities with the purchase of Bigmouthmedia in 2010.
LBi is ambitious and entrepreneurial. It reminds me a lot of i-level, that energy and restlessness - it's really sexy
Meanwhile, Digitas brings its strengths in online media buying and planning and its US presence with strong creative work such as the American Express Small Business Saturday platform. The combined network has some 6,000 employees in 40 offices across 25 countries.
Ling oversees media internationally outside the US and leads a team of more than 130 at the Brick Lane office. This is the European headquarters, which is home to 600 staff including the global chief executive, Luke Taylor.
Over the past year, Ling has hired Mark Newton from Possible to head operations in Asia-Pacific, based in Singapore, and Matt Adams from MEC as his UK deputy. He is looking to acquire digital media and technology shops to bolster the network.
Ling sees 2014 as the year when DigitasLBi will bear fruit. "If 2013 was more about the transition in terms of being acquired, merging and starting to think about all the capabilities we have globally, 2014 is about the application of that," he says. "It's going to be a really telling year for us."
He says there was some significant new business in 2013, such as a digital brief for Barclays Wealth and a couple yet to be announced, but much of it was won organically. Ling believes DigitasLBi has an integrated offer that is unmatched. If the agency has built a client's website, it is a natural next step for it to handle online customer acquisition. If it is working with a client on search marketing, it can then suggest ways to improve the website to gain greater referrals.
On the creative side, it can produce branded content, such as the magazine show for YouTube that was backed by Sony Mobile, which gives the lowdown on the latest content for smartphones.
Ling admits that all of this can make it hard to explain the agency's offer to clients. "It's very hard to pigeonhole us. The ideal client for us is the one where we engage with them across the media, the creative and the technology," he points out. "That's the challenge we have as an organisation and we are confident we will achieve that."