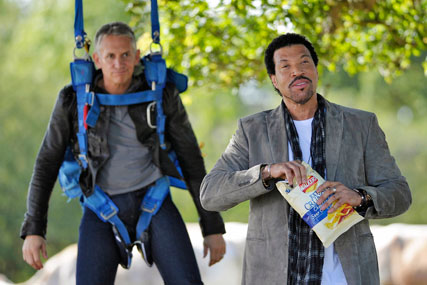 The ad has been created by Abbott Mead Vickers BBDO to promote the new Walkers Extra Crunchy crisps, and features Gary Lineker, who has appeared in more than 90 ads for the brand to date.
In the spot, Richie is shown on a tour of traditional English settings, singing 'Share You, Share Me' to friends and families who relax together with Walkers Extra Crunchy.
But when Richie brings his sharing message to Gary Lineker, who is buying a bag of the crisps in a newsagent, he ends up being thrown through the newsagent's window, landing on the pavement. As a final insult, Lineker retrieves the crisp that Richie has dared to take from the packet.
The ad finishes with the line: "New thicker cut Walkers Extra Crunch. Made for sharing – sometimes."
It was created by Matt Welch and Simon Welch and directed by Paul Weiland.
Richie, who hasn't appeared in an ad for 30 years, said he'd agreed to make it immediately upon reading the script.
Richie said: "I love British humour and I thought 'no one will ever expect to see me in a British ad'. I like to surprise people and try new things and I think people will be quite surprised when they see this, particularly when I come flying through a window."
There are five flavours in the new Extra Crunchy range: cheddar and sour cream, salt and malt vinegar, simply salted, grilled steak, and sweet chilli chicken.
'Say You, Say Me' featured in the film 'White Knights' and won an Oscar for Best Song.
Walkers has posted a behind the scenes video of the making of the ad on YouTube.