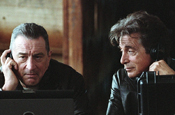 Lions Gate, the film distributor, is reviewing its £10 million media planning and buying account, currently held by Mediaedge:cia.
The entertainment company has already approached agencies to pitch for the account, which MEC has held for five years. It successfully retained the business following a UK review in April 2007.
Recent Lions Gate film releases include the George Bush biopic W and I've Loved You So Long, starring Kristin Scott Thomas.
The company is known for distributing films that are often too controversial for large American companies - a positioning which has led to problems with the advertising regulator in the past.
An ad for the Lions Gate police thriller Righteous Kill was banned by the Advertising Standards Authority in December last year. The ad, which used the tagline "Most people respect the badge, everybody respects the gun", was criticised by the watchdog for running during the in-quest into the police shooting of Jean Charles de Menezes.
Lions Gate said at the time that the tagline was the kind of dialogue expected from a film portrayal of a New York police department, but it admitted that placing the poster at Stockwell Tube station was an "unfortunate oversight".
An ad for the Lions Gate horror film Saw IV, which featured a severed head, was cleared by the ASA in February last year, despite drawing 57 complaints from the public that it could disturb children.