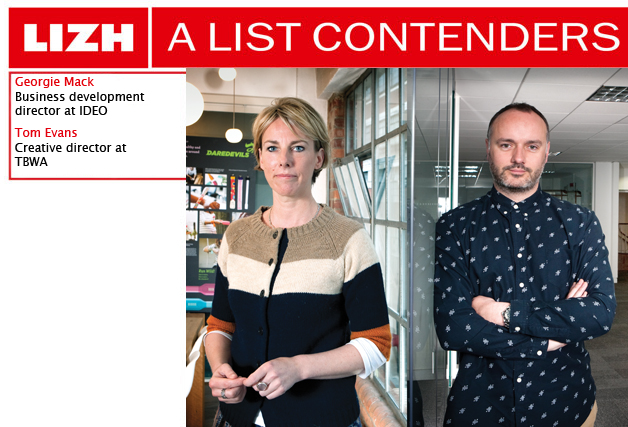 Georgie Mack, business development director at IDEO, and Tom Evans, a creative director at TBWA are LIZH's latest picks for potential future A Listers, thanks to an increasingly well-recognised talent for being able to adapt with the demands of the industry and move it forward.
A period in Budapest as DDB's client service director showed Mack that the need to get close to businesses also meant being able to find unusual solutions to their problems. "Coming back to the UK, I was keen to find something that would be far more involving rather than just receiving a conventional brief," she explains. "And IDEO is a very different and fascinating place."
Evans didn't need new exposure to show him the importance of stretching his creativity – it's been a priority throughout his entire career, even meaning quitting impressive senior roles if he felt stifled. Now happy as a creative director at Being, he still retains one day a week to work on personal projects to keep his creativity exercised.
The pair's vision, creativity and excellence outside of mainstream advertising is why they've been picked out as forerunners of 3D creatve. "They may come at it from different directions but they have a lot in common," says LIZH consultant Nicky Badenoch.
See the full article plus LIZH's previous picks for future A List Contenders.