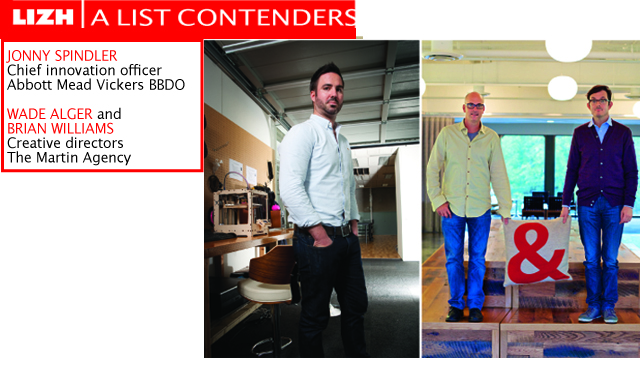 What do a rising star at Britain's biggest agency and a pair of US creatives finding stardom thrust upon them have in common? On the face of it, not a great deal, apart from the fact they have been picked by the headhunter LIZH as A List Contenders.
For Liz Harold, the LIZH managing partner, all three exemplify the breadth of innovation being undertaken in agencies – even if some of it isn't always obvious. "There's so much innovative work being done by agencies," she says. "We want to shine a spotlight on this and showcase the people behind it."
Jonny Spindler has embraced innovation in the most literal sense, having been tasked with ensuring that an innovation culture thrives throughout Abbott Mead Vickers BBDO.
Innovation emerges in another form from Wade Alger and Brian Williams at The Martin Agency. They were responsible for Clouds Over Cuba, an interactive documentary on the Cuban missile crisis that not only brought a pivotal moment in history to life, but also won awards.
Jonny Spindler
Spindler may not just be an A List Contender – his all-round industry experience also marks him out as a future agency chief executive. His background as one of the industry's early adopters in digital, his natural creativity and time spent running some big accounts belie his age (just 30). What's more, the business can be said to be in his blood: his father, Nick, is Joshua's former managing director.
Spindler's value lies in the breadth of what he has done. Having begun his career in digital as an art director and designer, he later moved into account management and planning, where he can lay claim to a series of innovative marketing solutions. These range from the downright odd – a social network for dogs, for the Mars-owned Pedigree – to "big idea" campaigns, such as the global launch of My Nokia.
At AMV BBDO, he has worked on consumer relationship-building with brands as diverse as Aviva, Mars, BT and the Metropolitan Police. Whether or not AMV BBDO ultimately proves sufficiently challenging to satisfy his ambition remains to be seen. There is no doubting Spindler eventually wants to run his own show, although he expects events to dictate his future, rather than the other way round.
"I'd like to think I'll eventually be a chief executive, whether that's at AMV BBDO, another agency, a client company or a media company," he says. "But I have no hard and fast career path and have never looked beyond a year ahead. Things move too fast and something will always happen to surprise you."
The LIZH partner Nick Grime suspects that Spindler's "restless, entrepreneurial spirit" will propel him into the wider, creative world. In the meantime, he adds, Spindler is proving to be an effective antidote to the cynicism that dismisses chief innovation officers as just another adland fad: "A lot of people are sceptical about the role, but Jonny is different. He's never seen innovation as one person's job, but as a collaborative thing that has to run through the entire agency."
Indeed, Spindler argues that his job is less about innovation and more about inspiration – whether that's
motivating creative teams to experiment with unfamiliar, new technologies, or production teams to look at costs, charges and budgets in a different way.
It helps that the Essex-born graduate of Ravensbourne College of Design and Communication has managed to augment the digital design skills he honed at Joshua with the account management
expertise first acquired at Glue London. "He was very much a driving force there," Harold says.
At AMV BBDO, where he is an integral part of the new management team surrounding the chief executive, Ian Pearman, Spindler balances his CIO role with account management. As well as the clients already mentioned, he retains a close link with the agency's PepsiCo business. "Not only does Jonny set a very clear agenda, he also gets the right people in the room to make it happen," Harold observes.
Wade Alger/Brian Williams
Imagine you are a creative in one of America's highly respected but out-of-town agencies, being put to work on one of its most worthy accounts, but hardly the most sexy. And imagine that, from a seemingly unpromising brief, you hit the jackpot. You come up with a truly innovative piece of work that scoops just about every award in sight in the US and Europe.
It may sound like every creative's wet dream, but for Alger and Williams – whose awards shelf groans under the weight of 11 Cannes Lions (three of them golds), a D&AD gold Pencil and an Emmy – it is a dream come true.
Their passport to fame was provided by the most unlikely source, the John F Kennedy Presidential Library and Museum, for which they created Clouds Over Cuba – an insider's view of one of the most dangerous periods in modern history.
One of the most remarkable aspects of this interactive, multimedia work is how it brings history to life for those who (Alger and Williams included) were born after the crisis occurred. It presents a series of "What if?" scenarios depicting what might have happened if Kennedy had taken the US to war with the Soviet Union.
"This was a grown-up subject tackled in such an interesting and innovative way that it compels your interest," Grime says.
So, has the impact of Clouds Over Cuba been a game-changer for its creators? "Oh, yes," Alger smiles. "We've become absolutely insufferable!"
Those who know them take this with a cellarful of salt. Harold, who met the pair when they came to London to collect their D&AD Pencil, finds them refreshingly ego-free: "They're professional, but not serious. Their enthusiasm draws you in."
Alger, 42, a writer, and Williams, 38, his art director, arrived at The Martin Agency in Virginia within a week of each other in 2008 and were soon handed the Kennedy account by Joe Alexander, the agency's executive creative director. "It's one of the agency's longest-standing accounts so it was flattering to be asked," Alger says.
The pair attribute their creative chemistry to the care and attention they put into their preparatory work. "We take time to examine every possible idea and to decide which is the most interesting and relevant," Williams says.
Whatever the future holds, the pair's growing reputation, further enhanced by their work for the insurance company Geico, is likely to raise the profile of The Martin Agency internationally.
"Of course we would like to work on more global business," Williams acknowledges. "But for the moment, we're happy to keep pushing ourselves and making our work as good as it possibly can be."
---
See past A List Contenders
---