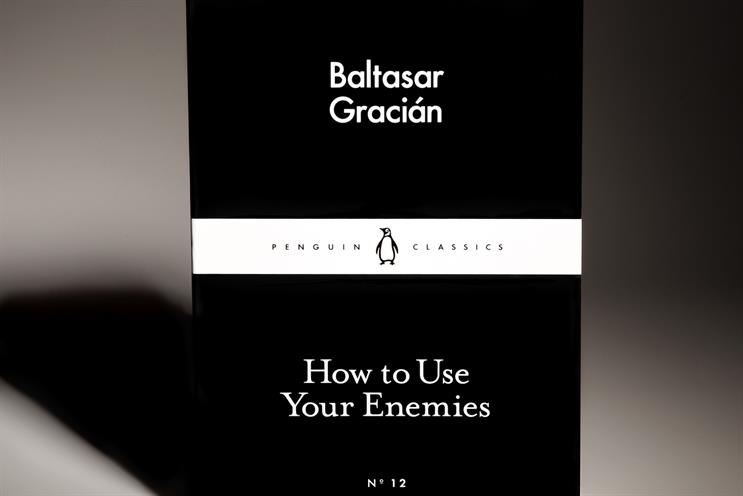 12 How To Use Your Enemies
By Baltasar Gracian
It's Monday, and as you re-enter the jungle, what better way to equip yourself than these "shrewd maxims on using guile and pragmatism to succeed in a dangerous world."
'How to Use Your Enemies', is a selection from a larger work entitled 'The Pocket Oracle and Art of Prudence', written in the mid-seventeenth century by Jesuit priest, scholar and philosopher Baltasar Gracian.
The puzzle-like maxims epitomize the agudeza (wit) of the Spanish Baroque literary style known as Conceptism.
They contain the sort of sentences that you find yourself reading seven times, just to make sure.
This impossibly compact manual of worldly advice is the product of a perilous and paranoid age in which to survive and succeed was to treat every aspect of life as adversarial and to manage oneself – in thought, word and deed –accordingly.
We may not operate in quite the same risk environment as late Habsburg Spain, and the choices we make as we deploy our creativity may not have quite the same scale of consequence as a wrong move on the religious or political chessboard of Gracian's day, but this adversarial view of leadership strategy was still recognizable in the martially inspired marketing thinking of the 20th century, in which consumers were targets, positioning statements were bellicose, share gains were at the enemy's expense, and time spent in a windowless room was war-gaming.
What is striking is the fact that today's brand management has adopted quite the opposite approach. We emphasize partnership, transparency, and participation.
We reject 'command and control' marketing in favour of something more open and organic – something more akin to a dialogue than a duel.
Gracian's world view may still describe the machismo of the boardroom, but we prefer to believe that brands and their ideas nowadays compete in a de-militarized zone where even the most formidable protagonists are merely the playthings of an empowered consumer.
It's not that Gracian's logic is flawed – many of his maxims are received wisdom - it's that his advice doesn't add up to the sort of person that any of us wants to be; and this in turn makes it self-defeating in 2015.
Anybody still tempted to write strategy in an emotional vacuum should read this book. It promotes, through its absence, the importance of emotional intelligence.
The reliable, axiomatic world of action and reaction was one in which the shrewd, however insensitive, could prosper. This world has passed, replaced by the mysterious tropisms of the human heart and our efforts to decode them.
Brand builders grasp this shift instinctively, but reading Gracian reveals first hand the profound inadequacy of 'weaponised IQ'.
Giles Hedger is the chief strategy officer at Leo Burnett London & Worldwide.
Read the full 80 Books in 80 Days series here