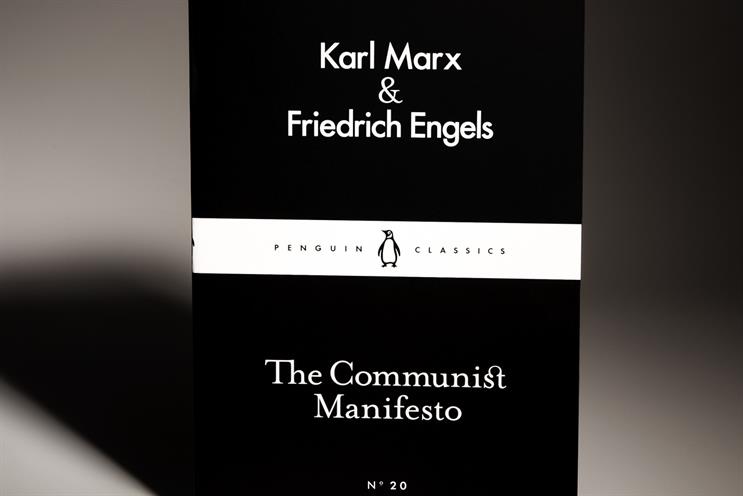 Not so long ago, confessing to possessing The Communist Manifesto, by Karl Marx and Friedrich Engels, could have made for interesting conversation with immigration officials on arrival in, say, the United States of America.
Nowadays, a rogue banana from the Club Kitchen is considered a more risky cargo than the once revolutionary ideas contained within this pamphlet. The modern intellect, with all the advantages of objective hindsight and all the leniency of the ideological canon, is quick to de-tune the fundamentalism, highlight the historical analysis, and declare it a work of universal influence that sagely prefigures the rise of global capitalism.
And it's true that the main reason for reading The Communist Manifesto is to understand the forces that have shaped the modern world. Industrialization; the division of labour; the placing of the means of production in the hands of the bourgeoisie... many of the concepts that underpin our understanding of capitalism were first articulated in this - capitalism's most damning and high-minded critique.
But to de-couple the manifesto's analysis from its political intent is to miss the fact that Marx and Engels were blueprinting (albeit in vague, rhetorical, and sweeping terms) a social and economic system that has found no happy, successful, or sustainable expression on this earth.
Whilst it was written just as revolutionary protests began to spring up across Europe in 1848, the manifesto was less the incitement and more the intellectual playlist of those uprisings. It was not until Russia's October Revolution of 1917 that a Communist state along Marxist lines was actually created.
The collapse of the Soviet Bloc 72 years later consigned communism in the West to history's pile of failed experiments, and revealed a system capable of all the self-interest and imbalance of a capitalist democracy, with none of the spiritual upsides of a free market.
In the 167 years since the manifesto was written, the world has concluded that infinite difference is more nourishing than perfect fairness. The one militates against the other, and we have had to make a choice.
We should never take for granted that we chose difference. Heterogeneity may seem like the natural currency of the multitudinous world. However, it is a principle that has cost many lives and taken many centuries of class antagonism to establish, and we should cherish it.
If the free market stimulates difference, then brand builders are at the epicenter of that project. And this presents a paradox, because one of the things that brands do well is bring coherence to the atomized world, make choices easier, and reduce the psychological burden of difference. It's a fine line, but if brands become such powerful simplifiers that they are a force for homogeneity, society will always reject them in the end.
If you don't believe me, read Marx & Engels.
Giles Hedger is the chief strategy officer at Leo Burnett London & Worldwide.
Read the full 80 Books in 80 Days series here