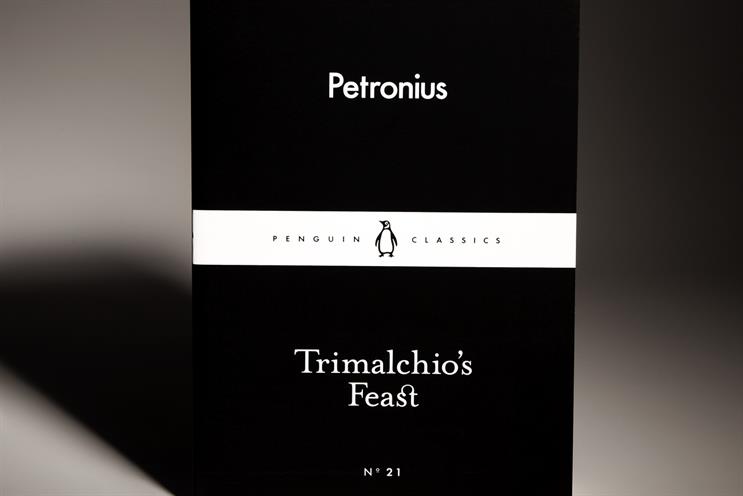 Today's book, a section of The Satyricon by Petronius, is a "bitingly comic portrait" of a vulgar dinner party host and the grotesque blend of ostentation and debauchery that engulfs his guests as he parades before them - both literally and figuratively - the new money of a slave-made-good.
Yes, we've all been to Trimalchio's Feast. Perhaps not with eunuchs or piss pots or trumpets or 100-year-old wine or whole-boiled calf or homoerotic table-waiting, but we have all been there.
What is so compelling about this satirical account of unregulated excess is the fact that it is recorded blow by blow by a bemused and semi-complicit guest. We gain a keen sense of what it is like not to be Trimalchio, but to know Trimalchio, and this is the crux of the lesson for marketers.
The idea of being someone's friend is sustained by the daily experience of actually being that person's friend, and the same is true of being a British Airways customer or of banking with HSBC or being a Volkswagen driver.
The brand reality has a cumulative and empirical effect that starts to compete with the idea we were buying into at the outset. As technology extends the time that it is possible to spend with a brand, and as the moments of 'usage' in many categories are replaced by stretched windows of usefulness, of influence and of exchange, it becomes truer than ever that our impressions are formed by a brand's reality.
Trimalchio's ill-judged hospitality reminds us that in this extended dance between brand and user, host and guest, it is not sufficient to share values; there has to be a level of shared taste. Brands express their good taste (or otherwise) through all of the million tiny preferences from which the user experience is constructed, and yet there is surprisingly little discussion of 'taste' as a marketing variable.
For brands whose very raison d'etre is good taste, this element of marketing is never far from the surface. Farrow & Ball, for example, is a business strategy based on reviving the implicit good taste of those whose ivory trophies might once have been mounted on a wall the colour of elephant's breath.
But for most brands good taste is not the strategy, it is simply one part of the connection that a brand needs to make, and this makes it harder to define. Yet doing so is time well spent, because the once narrow window on the soul of your brand is now a banquet of moral transparency. The scope for Trimalchian faux-pas is endless, but so is the opportunity for like-mindedness.
Giles Hedger is the chief strategy officer at Leo Burnett London & Worldwide.
Read the full 80 Books in 80 Days series here