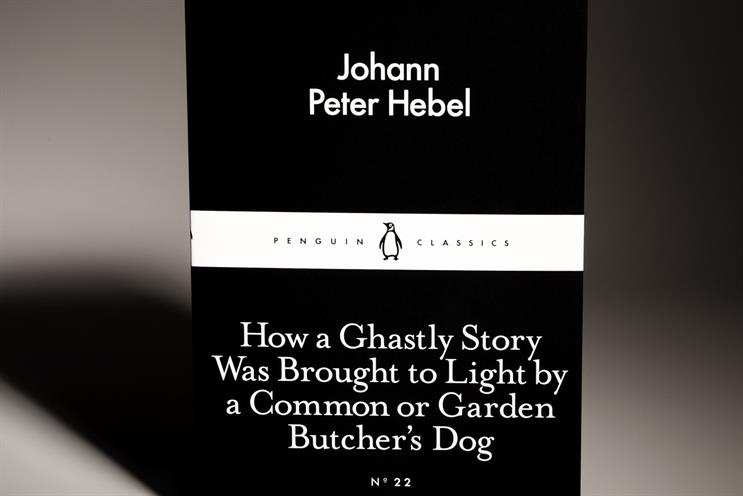 Book 22 is a set of curious miniatures. In art galleries I always walk past the miniatures, but this time I am glad I stopped and peered in.
How a Ghastly Story was Brought to Light by a Common or Garden Butcher's Dog is the title of the collection as well as of a story within it. It immediately made me want to read the titles of the others.
The Silver Spoon. The Cheap Meal. Dinner Outside. The Clever Judge. The Artful The Dentist. A Poor Reward. Unexpected Reunion. A Bad Bargain. The Fake Gem. Patience Rewarded. The Safest Path.
The titles, and the stories themselves, are audacious in their plain-speaking everydayness. The German literary psyche can be aggressively conceptual, but it can also be formidably concrete. These writings belong to the latter branch, and to a Lutheran theologian from the Black Forest called Johann Peter Hebel. Their genre is hard to pin down: part anecdote; part fable; part folk tale; but in their subject matter and in their worldview they are remarkably coherent.
One reason for this is the very specific purpose for which these stories were written. Hebel had been enlisted to boost readership of the community newsletter in Baden. He assumed editorship of this 'Landkalender' and one of the improvements he made was the addition of what came to be known as Kalendergeschichte, or calendar stories.
So there was specificity of purpose, but far more than this, what lends the stories their coherence is the underlying belief that our parochial and domestic goings on, the people we encounter by chance along the way, the trades we ply, the luck – good and bad – that comes our way, how we meet our maker, whether we are just in our actions: these are the grains of sand in which the human condition in its most modest form can be detected, and through which the least hectoring of moral lessons can be taught.
Hebel's writing is a sparkling example of the task that brands often set themselves, which is to stretch the authentic world just far enough that it pushes at the corners of our imagination, but not so far that it loses its sincerity. It is a reminder that brands should start with the mundane and build outwards from it, because that is the direction in which life itself radiates for most people, and because there is no human truth that cannot be traced to the daily un-chronicled interaction between people we have never heard of.
And let's face it – we had never heard of Hebel.
Giles Hedger is the chief strategy officer at Leo Burnett London & Worldwide.
Read the full 80 Books in 80 Days series here